Can Spider-Man 3 Survive the Tangled Web of Expectations?
Christa Banister, Contributing Writer
Monday, April 30, 2007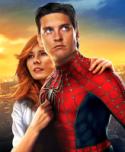 It's often been said that great things come in threes. But as any film buff knows all too well, that adage doesn't necessarily apply to movies.

While a quick jaunt through cinematic history reveals a handful of sequels that actually manage to surpass their predecessor in terms of quality and pure entertainment value, the third flick in a popular series doesn't typically fare too well.
Well, unless you're concluding your magnum opus like Peter Jackson did with The Lord of the Rings: The Return of the King, of course. But that's a rare exception to the rule—just ask any fan of The Godfather.
And while Spider-Man director Sam Raimi and Jackson may be only one degree of separation apart these days as it's rumored that Raimi may take over for Jackson and direct the upcoming adaptation of The Hobbit, Raimi doesn't have time to think about Middle-Earth right now. His brain just happens to be rather Spidey-focused at the moment.
"Sam was working up to the last second before he had to turn in the film to the studio," says Kirsten Dunst, who plays Spidey's true love, Mary Jane Watson. "He works harder than anyone I know and wanted everything to be perfect for the audience."
Of course, with the billion-dollar success of the Spider-Man franchise at stake, Raimi's aforementioned work ethic doesn't probably seem all that surprising to some. But beyond making something that's commercially viable, Raimi says the most important thing was remaining true to the characters he treasures so much.
"When dreaming up the third installment of this movie, we asked ourselves what Peter Parker [Spider-Man's geeky, bookish alter ego] still had to learn," Raimi comments. For anyone who's seen the trailer for Spider-Man 3, you already know that one of those "obstacles" includes Parker dealing with his dark side, something that's symbolized by the creepy-crawly symbiote (or black goop, for the less scientific crowd) that attaches to his suit.
"We placed him in situations where he'd be forced to confront his absences of character, obstacles that, in previous stories, he might not have been able to surmount. In this way, he would either be defeated to grow into the heroic person who might be capable of overcoming these obstacles. As the depth of our characters grow, they become richer human beings and can achieve more."
Embracing the Dark Side
"After doing two of these movies already, I loved that we were exploring new territory for the characters," says Tobey Maguire, who plays Parker/Spider-Man. "When I read the script, I was really excited about the new direction we were going in, and truthfully, I probably loved doing these dark scenes the most."
Now in what many critics are already saying is probably the most entertaining installment of the three, audiences can expect to see a whole new side of their favorite spider.
After the typical growing pains that inevitably come with adolescence and coming to terms with his unusual superpowers in the first two films, the nerdy protagonist is actually enjoying life for a change. And after varying opinions of whether he's a hero or a menace, he's finally earned the respect of his New York City community, not to mention his persnickety newspaper editor after he outscoops a rival photographer. Even more importantly, he's succeeding on the personal front as he no longer has to hide his true identity from his favorite redhead—whew! In fact, he's got his Aunt May's ring and is ready to propose to her.
Recently on Movie Features
Have something to say about this article? Leave your comment via Facebook below!
advertise with us
Example: "Gen 1:1" "John 3" "Moses" "trust"
Advanced Search
Listen to Your Favorite Pastors