David Cook's Utopia More Than a Golf Story
Laura MacCorkle, Senior Editor, Crosswalk.com
Tuesday, August 30, 2011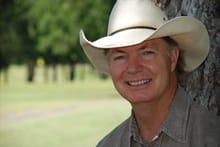 I was there every second and my job really was to shepherd the movie and make sure that we held the story together—at least the meat of the story—and that nothing would get lost in Hollywood and be hijacked in any way from anyone else's agenda or those saying you can't do a faith-based movie. That was hard, but we did it. I think we maintained the element that we were looking for in this movie without scaring people away from the box office. However, the critics are going to kill it. But we didn't make it for the critics.

Since you worked on the screenplay with the film's director, in a sense you had to share your baby (the book) with him. What was that like to trust someone with your story?

Matthew Russell is a dear friend and a follower of Jesus and he has the same heart as me, but he didn't see it always exactly the way I did. But he knew this was my story, and so he did his best to make this story happen. And then I listened very well when he had ideas, especially from a cinematography [standpoint] and from his perspective. I think we worked very well as a team, because we both came from a heart of God.

It's exciting to see your story come alive now on-screen. Which character in Seven Days in Utopia would you say you identify with the most?

Probably at this moment in my life, maybe the Johnny character, the mentor. But when that meltdown's going [for Luke] . . . and me and everybody else who's played this game or lived life or tried to perform, we've all had one of those. It's like we all jump right back and go, "Oh my gosh. I remember that." So I could identify with both of those, and I was able to write both of them because so much of me is in both of them. But I took all of my mentors and I took myself and all the players that I have worked with over the years on the PGA Tours and created that one character.

Why do you think that storytelling can be much more powerful than just saying, "Here are the five life lessons that you need to learn"?

I think we're just following what Jesus did. Jesus taught in parables and word pictures, and they were powerful and he used everyday experiences from seas to fig trees to weather or whatever to speak his point. And so what we're doing is following in Jesus' steps. The Bible also says that they shall overcome by the blood of the Lamb and the testimonies of men. The testimonies of men are really story, the story of Jesus in and through us that will change eternity. And so it's the privilege of being a part of that game and being in the game, being called out in the game and having a place in the game. And it's all about the story. And our stories amaze people. Everyone has a story. If we would share them, we could change the world.

As people leave the theater, what do you hope they're thinking after seeing the film?

Those people who came who are looking for more in their lives, I hope they go away going "I've got a glimpse of where that might come from," and we leave them in the theater with [a message] that says to continue the journey they can go to a Web site. And most of them will because of the way we did this movie, and it got very creative at the end. I think most people are going to be compelled to go to that Web site, and that's the beginning of the journey of more. We know where more is. People in the world looking for more don't necessarily know where that is.

If Seven Days in Utopia does well at the box office, do you think you might try your hand at more films?

I will. I'll see that as the Lord saying that territory in Hollywood needs to be taken back. Storytelling is his tool, and if we can do it in a way that brings a return to our investors and changes the world then I think we've got an opportunity to do some more of that. We've just got to follow the Holy Spirit.
Presented by Visio Entertainment and starring Robert Duvall, Lucas Black, Melissa Leo, Deborah Ann Woll, Brian Geraghty, Kathy Baker and K.J. Choi, Seven Days in Utopia opens in limited release in theaters on September 2, 2011. The film is rated G. For more information, please visit www.sevendaysinutopia.com.

Watch the official trailer here . . .

Recently on Movie Features
Have something to say about this article? Leave your comment via Facebook below!
advertise with us
Example: "Gen 1:1" "John 3" "Moses" "trust"
Advanced Search
Listen to Your Favorite Pastors