Crosswalk.com's Best of Movies in 2003
Crosswalk.com Staff
Wednesday, December 31, 2003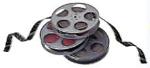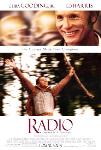 "Radio"
Rating:  PG (for mild language and thematic elements)
Actors:  Cuba Gooding Jr., Ed Harris, Alfre Woodard, Debra Winger, S. Epatha Merkerson, Riley Smith, Sarah Drew, Chris Mulkey, Brent Sexton
Director:  Michael Tollin
Comments: This is a touching testimony of what unconditional love, compassion, faith and overcoming life's obstacles can achieve. Gooding Jr. and Harris give unforgettable Oscar-worthy performances that are both inspirational and heartfelt. Gooding Jr. seemingly had an easy role without much dialogue, but his portrayal is not a caricature. Instead, he plays a man humbled by life's circumstances with feelings, intellect and heart — this is his "Rainman," and he made it look easy. Heartwarming, powerful, inspirational, a tribute to the human spirit and a joy to watch — this movie will leave you with a smile on your face and hope in your heart! If you enjoy stories of triumph and overcoming the odds like "Rudy," then you'll love the spirit and heart of "Radio."
Click here for the full review.



"Seabiscuit"
Rating:  PG-13 (for language, a sexual suggestive situation, and sports-related violence)
Actors:  Tobey Maguire, Jeff Bridges, Chris Cooper, Elizabeth Banks, William H. Macy, Gary Stevens, Chris McCarron
Director:  Gary Ross
Comments: This true story is based on Laura Hillenbrand's best-selling book about a broken-down horse name Seabiscuit who brought together three men. Together, the four triumph over adversity — not only winning prestigious horse races but seemingly the hearts of America as well. Writer/producer/director Gary Ross (who previously worked with Maguire and Macy in "Pleasantville") used several unusual techniques to bring this moving tribute to the big screen. The story is told with a number of unconventional framing devices like the documentary-style scenes with stills of the Depression-torn America and narration by famed historian David McCollough. Rounding out the tug on the emotional heartstrings is the movie's musical score by Randy Newman, which is both stirring and moving and completes the dramatic touch needed in each scene.
Click here for the full review.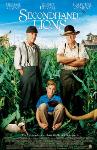 "Secondhand Lions"
Rating:  PG (for thematic material, language and action violence)
Actors:  Michael Caine, Robert Duvall, Haley Joel Osment, Kyra Sedgwick, Nicky Katt, Josh Lucas
Director:  Tim McCanlies
Comments: This movie has everything you could want: a heartwarming story about men mentoring a boy, adventure with a lion, a gang of hoodlums, intense "Indiana Jones" kind of action and a renewed hope for life when there seems to be none. Duvall and Caine prove what legends they really are in this business, and each of them give Oscar worthy performances that should earn them nominations. By the end, Osment really got to me; tears were flowing like a faucet during one scene. The plot focuses on courage, virtue, honor, faith, trust and holding oneself to a higher standard. It takes a boy who had been repeatedly lied to by his mother and places him in an environment where he's taught to trust and have faith, especially in men. The themes and story will resonate with all ages. "Secondhand Lions" is a movie that will make you laugh, cry and appreciate life's important treasures — the people we love.
Click here for the full review.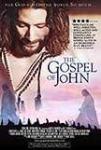 "The Gospel of John"
Rating:  PG
Actors:  Henry Ian Cusick, Stuart Bunce, Daniel Kash, Richard Lintern, Stephen Russell, Scott Handy and Christopher Plummer as the Narrator
Director:  Philip Saville
Comments: Cusick portrays Jesus as an intelligent, manly, charismatic soul who has a tender heart towards women (saving one from being stoned), compassion on those who are sick, lame and blind, a righteous indignation when money changers invade the temple and a bold authority that challenged the pious religious authorities of his day.  Scriptwriter John Goldsmith ("Victoria and Albert", "Return of the Saint", "Great Expectations") unfolds the story of Jesus in an easy-to-understand language using the American Bible Society's Good News Bible translation combined with Saville's ("Metroland", "Hamlet", "Oedipus the King") keen directorial talents. The result is an entertaining, compelling and inspirational movie about Jesus. People may be overwhelmed at the thought of a three-hour movie. But truthfully the story is so compelling and entertaining that it doesn't feel like a long movie. And when it was over, I wanted more. I can truthfully say that as a "seasoned" Christian who has been a believer my entire life, watching this movie gave me a renewed appreciation for Jesus and the struggles he went through to bring God's message to the world.
Click here for the full review.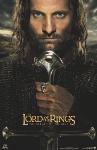 "The Lord Of The Rings: The Return Of The King"
Rating:  PG-13 (for intense epic battle sequences and frightening images)
Actors:  Elijah Wood, Sir Ian McKellen, Sean Astin, Billy Boyd, Orlando Bloom, Kevin Conway, Hugo Weaving, Bernard Hill, Sir Ian Holm, Christopher Lee, Dominic Monaghan, Viggo Mortensen, John Rhys-Davies, John Noble, Liv Tyler, Cate Blanchett, Miranda Otto
Director:  Peter Jackson
Comments: Peter Jackson, the "King of Trilogies," delivers a royal reward that is triumphant in every way! With an amazing cast, incredible creatures, impressive sets, jaw-dropping battles and realistic special effects, Jackson has raised the bar for audience expectations and has forever changed the way we view sequels. I think it's safe to say that Jackson has earned a unique place in cinematic history with a crowning achievement that will never be surpassed. The amazing battles will satisfy lovers of war stories, the passionate kiss between Aragorn and Arwen will satisfy the romantics and the loyalty to friends will inspire all. This final epic and body of work is Oscar worthy in every way.
Click here for the full review.




Recently on Movie Features
Have something to say about this article? Leave your comment via Facebook below!
advertise with us
Example: "Gen 1:1" "John 3" "Moses" "trust"
Advanced Search
Listen to Your Favorite Pastors