Die Another Day - Movie Review
Holly McClure, Movie Reviewer
Friday, November 22, 2002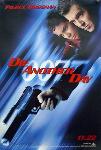 Genre: Action, Adventure
Rating: PG-13 (for action violence and sexuality)
Release Date: November 22, 2002
Actors: Pierce Brosnan, Dame Judi Dench, John Cleese, Halle Berry, Rick Yune, Toby Stephens, Rosamund Pike, Samantha Bond, Will Yun Lee, Madonna (cameo)
Director: Lee Tamahori
Special Notes: With $2.5 million spent on 11 identical Aston Martins and over $100 million spent on every kind of gadget, gizmo, explosion and expensive car you can imagine, this twentieth, 40th-anniversary movie is the costliest Bond film ever made. Still, the franchise seemingly remains indestructible (each of the last three has grossed more than $300 million worldwide), which makes 007 a pretty formidable 40-year-old. Remember all of you old Bond fans, this movie is a potpourri of all the early Bond movies with a sly wink to 007's past.
Plot: During a dangerous mission in North Korea, Bond's (Brosnan) cover is blown as he proceeds with his assignment to kill a general's war-crazy and neurotic son. James is then imprisoned and tortured for 14 months, and released in exchange for a North Korean terrorist Zao (Yune), the man who knows who betrayed him. Bond is put under suspicion by the NSA for "selling out" and escapes to single-handedly track Zao and find the killer who betrayed him. Bond flies from Hong Kong, to Cuba, to London, and finally southeast Iceland, in a complicated plot that involves diamonds, a DNA /"facial mutation" process, a satellite laser that could destroy the earth, a new power hungry wannabe leader and an old enemy who returns from the dead. On his way to getting to the truth he meets two beautiful women who are with the NSA, Jinx (Halle Berry) and Miranda Frost (Rosamund Pike), and both give Bond pain and pleasure as he fights to destroy a madman.
Good: This 20th Bond film winks to the 007's of the past with Berry filling the role of a female Bond and wearing a deja vu bikini like the one Ursula Andress wore in the first 007 flick, Dr. No. And in typical Bond fashion, there's an interesting (and very long) credit roll at the beginning with Madonna singing the title tune to implied nude "ice and flame" dancing women figurines swimming, diving and jumping, in and out of scenes while Bond is tortured. Despite the fact that her song is sort of annoying and didn't impress me (nobody does it better than Carly Simon), the Material Girl later appears in the movie and does a decent job. One of the most impressive scenes in the movie features a sword fight between Bond and Gustav Graves (Stephens), choreographed by Bob Anderson who was responsible for the sword fights in Star Wars, Lord of the Rings, Zorro, and Highlander movies. It's one of the more impressive moments in the film. Since this is the 40th anniversary of James Bond, there are constant reminders of the old 007 movies sprinkled throughout. You can spot the old jet pack, the crocodile submarine, the famous bikini, the old "Goldfinger"-style Laser and even the book that Ian Fleming got the name "James Bond" from. One of the more spectacular and unusual scenes comes mid-movie in the form of a five-minute high-speed car chase on ice--as in Iceland. The movie starts out really well because Brosnan gets to act while being tortured, beaten down, and later disowned by M and his fellow spies. It's a different side of Bond we don't normally get to see and I liked the different feel. But by mid-movie he's back to his old formula style of Bond action with little time for any dialogue much less anything with depth. Beyond her impressive beauty (despite a bad hairdo that looks like a nappy bathing cap), the Oscar-winning actress Berry does a decent job portraying the "female Bond" with what little script she was given to work with. She's believable as she fights and does her "spy stuff" but she hardly gets to exchange much more than witty barbs between she and Brosnan. John Cleese provides the real humor and much needed comic relief, delivering one of the more memorable lines in the movie:
Recently on Movie Features
Have something to say about this article? Leave your comment via Facebook below!
advertise with us
Example: "Gen 1:1" "John 3" "Moses" "trust"
Advanced Search
Listen to Your Favorite Pastors