Evan Almighty: An Ark to Remember
Christa Banister, Contributing Writer
Monday, June 18, 2007

"It always looked like something that was actually growing out of my face," Carell recalls. "So when I lose a little more hair in real life, I will be calling Dave [David Leroy Anderson, who was in charge of creating Carell's look] to come over to my house every morning and apply a toupee for four hours because I know it'll look real."
In addition to donning some serious scruff, Carell also got cozy with a menagerie of animals, (two of each, out of more than 177 species). And while Carell fondly describes the giraffes as having "a very soulful quality to their face that you'd never see from a distance," he didn't feel the same way about a certain baboon that happens to bring him a glass of lemonade in the film.
"It [the baboon] really was trained to bring me the lemonade," Carell recalls. "There was a take before the one they used, where the baboon came up to bring me the lemonade and the other baboon went up and took his lemonade and spilled it. I improvised—unwisely—and said, 'Hey man, what are you doing?' I learned that you're not supposed to raise your voice to a baboon. It thought that I was getting aggressive with it, so it bared its teeth, growled at me and went into attack mode. After the take, the trainer came up and said, 'Yeah, don't do that. Don't look the baboon in the eye.' They should have told me that before I started the scene. The next time I was like, 'Ahhh . . . don't kill me!'"
Carell's on-screen wife Lauren Graham (Gilmore Girls, Because I Said So) adds that working with the animals was one of most surreal aspects of filming. "People will be amazed at how much the animals could really do," Graham says. "They're incredibly trained."
All Ages Aboard

What Graham loves the most about Evan Almighty is that it's a "very inclusive" story. And unlike Bruce Almighty, which had some sexual content and innuendos, something that Shadyac says underscored the flawed nature of humanity, the film's "mild rude humor" is of the scatological variety, given all the animals on set.
"It would be insane not to invite everyone to this movie," Shadyac says. "I wanted everyone from a two-year-old to a grandmother to see particular movie this because I think they'll all find elements that relate to them, whether it's kids liking the animals or an adult connecting with the importance of family."
And while it's not presented in a heavy-handed way, it was also important to Shadyac to communicate a message about social responsibility, environmentally speaking—a message the crew also modeled during the movie's production.
"Our goal has always been to be a green film," Shadyac, who often rode his bike more than 30 miles to the set, comments. "We recycled during filming. Every piece of material—lumber, windows, door and window treatments, flooring, hardware, etc., that was salvageable was recycled, repurposed and donated somewhere, as opposed to just throwing it into a landfill." Wood from the ark itself was donated to Habitat for Humanity.
Working with The Conversation Fund, 2,050 trees were also planted to zero out carbon emissions and to contribute to the community. "Because you fly production planes to transport your crew, you try to zero that by planting trees. They absorb carbon and release oxygen. Zeroing out kind of heals the damage."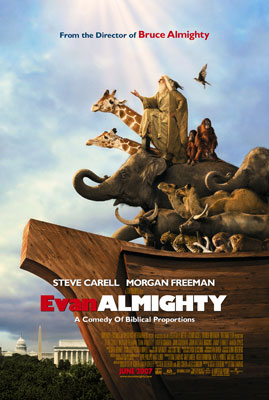 Starring Steve Carell, Morgan Freeman, Lauren Graham and John Goodman, Evan Almighty opens nationwide on June 22, 2007. It runs 90 minutes and is rated PG for mild rude humor and peril. Click here to watch the Evan Almighty trailer.

Recently on Movie Features
Have something to say about this article? Leave your comment via Facebook below!
advertise with us
Example: "Gen 1:1" "John 3" "Moses" "trust"
Advanced Search
Listen to Your Favorite Pastors