Everyone But the Most Cynical Will Enjoy "Racing Stripes"
Annabelle Robertson, Entertainment Critic
Thursday, January 13, 2005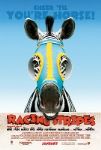 Release Date: January 14, 2005
Rating: PG (for mild crude humor and some language)
Genre: Family/Comedy/Drama
Run Time: 1 hr. 27 min.
Director: Frederik Du Chau
Actors: Bruce Greenwood, Hayden Panettiere, M. Emmett Walsh, Wendi Malick, Gary Bullock, Frankie Muniz, Mandy Moore, Whoopi Goldberg, Dustin Hoffman, Jeff Foxworthy, Joshua Jackson, Snoop Dogg, Joe Pantoliano, Steve Harvey, David Spade
E.B. White's "Charlotte's Web" was one of my favorite books growing up, so it was only natural that I enjoyed "Babe" when it came out in 1995. But even if these stories made me somewhat predisposed to like this film, I'm still a stickler for good characterization and good dialogue (plots, in my opinion, ultimately boil down to just a few). For this and other reasons, I couldn't help but be impressed by "Racing Stripes," a funny movie with positive, encouraging messages that children and parents will enjoy.
When the circus pulls up its tent pegs and heads out of Kentucky, they forget poor little Stripes (voice of Frankie Muniz). Nolan Walsh (Bruce Greenwood), a former horse trainer, discovers the baby zebra and names it, then gives the animal a home on his farm. His daughter Channing (Hayden Panettiere) is delighted. As soon as Stripes spots the racehorses training next door, however, he wants to become one. The other barnyard animals, including Frannie, a goat (voice of Whoopi Goldberg) and Tucker, a Shetland pony (voice of Dustin Hoffman), have mixed feelings. It turns out that Tucker used to help his owner train horses, but when Nolan's wife died during a race, they all gave it up. Now, Nolan refuses to let Channing ride, which is her dream.
Stripes refuses to give up, however, and spends every day racing the mailman and getting in shape. Soon, he's good enough to gain some attention (with Channing on his back) – but no respect whatsoever. After all, what could a tiny zebra do against 1,500-pound thoroughbred? Even Sandy, a prize-winning jumper (voice of Mandy Moore) can't stop people from mocking the pair. But with a little help from his friends, Stripes and Channing eventually make their way to the starting gates of the "Kentucky Open." And there, they show everyone just how important it is to believe in yourself.
In the tradition of "Mr. Ed," with a hefty dose of "Babe" and "National Velvet" comes a film that families of younger children can enjoy for its brains and heart.
It's good fun, with a standard "sports movie" plot, pared down for youngsters. I don't consider that a negative, however, because when it comes to plot, there truly is nothing new under the sun. Good narrative has little to do with plot, and should instead focuses on characters and dialogue – as well as good, positive messages. Good movies also need good actors and good directors. This film stands out on all counts.
With the exception of Muniz and Moore, who are both lackluster, and Snoop Dogg, who has only a small role (as a hound dog), Belgian director Frederik Du Chau ("Quest for Camelot") has gathered a stellar cast that gives stand-out performances. Most notable are Goldberg and Hoffman, who constantly spar with one another and provide for good comedy. Panettiere is also charming. But it is Joe Pantoliano ("The Sopranos") who almost steals the show. As a pelican who calls himself Goose, and who's on the lam from the mob, he's hilarious – particularly with his physical comedy. I laughed out loud when he "offed" the motorcycle.
Recently on Movie Features
Have something to say about this article? Leave your comment via Facebook below!
advertise with us
Example: "Gen 1:1" "John 3" "Moses" "trust"
Advanced Search
Listen to Your Favorite Pastors