Evil Plays the Darkest Role in The Rite
Laura MacCorkle, Crosswalk.com Senior Editor
Wednesday, January 26, 2011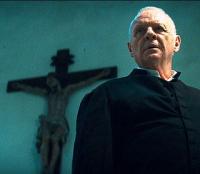 It's hard to believe that what some consider "the ultimate" exorcism film of all time, The Exorcist, released in theaters nearly four decades ago.

At the time, the displays of evil in the R-rated horror movie shocked and terrified audiences—believers and nonbelievers alike. Allegedly based on a true story of a child who was demon possessed and a mother's and two priests' desperate attempts to help by way of an exorcism, the film was filled with intensely dark and violent scenes complete with foul language, blasphemy, paranormal occurrences and even death. And after earning ten Academy Award nominations and winning two (Best Sound, Best Adapted Screenplay), the bar was set for whatever films were to follow—not only in this subgenre, but into this unsettling realm of darkness as well.

Like The Exorcist, New Line Cinema/Warner Bros. Pictures' newest supernatural thriller, The Rite, is also inspired by real-life events.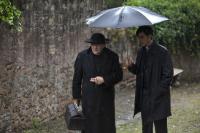 Stranger Than Fiction

In the fall of 2005, a parish priest from California traveled to Rome, Italy, to take part in a groundbreaking, Vatican-affiliated university course: "Exorcism and the Prayer of Liberation." He had been charged to learn the official teaching of the Roman Catholic Church on the devil and exorcism, to train with an experienced exorcist and upon completion to return to the States to be appointed an official exorcist. During his nine months of study, Father Gary Thomas learned about a world he never knew existed as he participated in over eighty exorcisms along with a senior Italian exorcist.

At the same time, Matt Baglio, an American-born freelance writer based in Rome, had also heard of the course, which was open to laypeople as well, and thought it could make for an interesting article. However, once he met his fellow classmate Father Gary, he knew this priest's journey into the world of exorcism and demonic possession was most definitely something more: book material. And so Father Gary agreed to let the investigative journalist follow along with him and chronicle his training in becoming an exorcist.

But before the book had even been written, Baglio drafted a proposal which wound up in the hands of Hollywood film producers who were immediately excited about the original idea and wanted to make a movie inspired by this story of a priest going to exorcism school. Screenwriter Michael Petroni (The Chronicles of Narnia: The Voyage of the Dawn Treader) was enlisted and began to write the script in tandem as Baglio was finishing his book (The Rite: The Making of a Modern Exorcist).

Petroni, who has been involved with other films that delve into the "unseen world," was just as intrigued with The Rite.

"I just think it's my nature to be interested in the spiritual side of life," he says. "My Catholicism definitely informs that, and I find the Catholic faith provides a lot of material and a lot of symbolism and icons that I think are very useful when it comes to moviemaking."

Baglio was able to share with Petroni many of the interviews with priests and victims of possession that he had conducted in his research, as well as firsthand accounts of thirty exorcisms that he had witnessed—all of which the screenwriter says helped him greatly as he was crafting his script.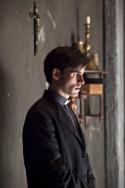 A Change is Gonna Come

While Father Gary Thomas is 52 in the book, in the film his character is portrayed by a twenty-something seminary student named Michael Kovak. Despite being very near graduation and the beginning of priesthood, Michael is struggling with his faith. Does he believe what he's learning in seminary? Is he really cut out for this? Or should he just quit his studies altogether?

Colin O'Donoghue, an up-and-coming actor (Showtime's The Tudors) from Drogheda, Ireland, who makes his feature film debut in The Rite, was excited to take on the role of Michael and understood the need to make the character based on Father Gary a much younger man in the film—as well as one who was much more skeptical about demonic possession, exorcism and belief in God than Father Gary had ever been.

"[My character] comes from an era where everything has a scientific explanation or most things do," he says of the uncertainty that Michael has about demonic possession. O'Donoghue also embraced the doubt that Michael has about his faith throughout the film.

"I think everybody has doubts at some point. A lot of priests that I spoke to, it's the very same question I asked them. 'Have you ever doubted?' How can you not doubt?' That's when faith, I think, plays its biggest part when you are doubting. You just have to believe, and it will pull you through it."

Petroni echoes O'Donoghue by admitting that it was an intentional decision on his part to make a younger lead character for the film in order to help audiences better relate.
Recently on Movie Features
Have something to say about this article? Leave your comment via Facebook below!
advertise with us
Example: "Gen 1:1" "John 3" "Moses" "trust"
Advanced Search
Listen to Your Favorite Pastors