Faith, Family and Tapioca Take Center Stage in New in Town
Christa Banister, Crosswalk.com Contributing Writer
Wednesday, January 28, 2009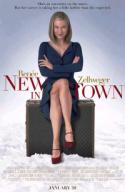 And for scene-stealing funnywoman Siobhan Fallon (Baby Mama, Seinfeld), the opportunity to play a quirky New Ulm local who loved to scrapbook and believed that her special tapioca pudding was the cure-all to all life's ailments, was literally an answer to her prayers.
"I remember praying 'God, let there be a script that you'd be proud to have me in.' Then this script came along, and it was an answer to my prayer, so I knew I better do the best job I can do," Fallon shares. "I feel like this is going to be something that the Christian community will be so happy about. And I hope they will flock to it."
An Old-Fashioned Feel
What Fallon also appreciated about New in Town was being able to talk about Jesus in a non-mocking fashion.
"When my character [Blanche] talks about Jesus, it's not done disrespectfully. It's not politically correct or politically incorrect. It's so beautifully done," Fallon shares. "[This movie] represents the beliefs of such a huge part of the United States that it seems like Hollywood veers away from because it's not hip. I just thought it was a gift to have this script, and that the producers were brave enough to do it. And I'm so proud to speak about Jesus three times in it and not mock it and have it be something the community is proud of—and not a weird thing."
Also a departure from the norm is the film's old-fashioned approach toward relationships. "The relationship between Ted [Connick] and his daughters is so respectfully done. In most TV shows and movies, you see just the opposite," Fallon continues. "The way the romance is done, it's like a Frank Capra film. You don't have the bedroom scenes, and it's not necessary. And how many movies do you see where the community sings 'O Holy Night' in the town square?"
For Connick, the project allowed him to work alongside an actress he'd always wanted to—Renée Zellweger. "I read the script, and I loved it. But it was the prospect of working with Renée that really made me want to do it," he says. "I've been a fan of hers for a long time, and I was really looking forward to working with her."
And Connick and Zellweger's shared sense of humor, not to mention an easy rapport through shooting in the below-zero temps helped build a charming chemistry that helps sell the concept. In fact, Zellweger says the temps, which dipped in the neighborhood of—52.6 degrees, led to a greater appreciation of pantyhose.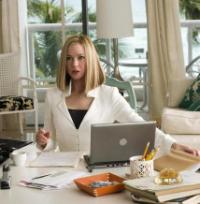 "I didn't know cold like that—that was a different kind of experience and a marvelous exercise in learning how to develop new survival skills. It was a whole new language for the biological things that happen," Zellweger shares. "And who knew pantyhose could be so, so important? Three, four pairs at a time; I never thought I'd rejoice at the pantyhose laid out on the bed by wardrobe every morning. But they were essential. I would not be here today if it weren't for Hanes, I promise you."
Embracing Common Struggles
As a wife and mom to three kids, Fallon is glad that New in Town portrays family in a positive light.
"My character is someone who actually walks out what she believes. She's smart, she works hard, and she's a great homemaker," Fallon says. "I can't stand people who act like homemakers aren't doing something of quality. Last year, I worked two months out of the year, and the rest of the time, I'm a Mom. I take offense to anyone who says that being a stay-at-home isn't fulfilling."
Recently on Movie Features
Have something to say about this article? Leave your comment via Facebook below!
advertise with us
Example: "Gen 1:1" "John 3" "Moses" "trust"
Advanced Search
Listen to Your Favorite Pastors