Film Set Visit: An Inspirational Dolphin Tale
Laura MacCorkle, Senior Editor, Crosswalk.com
Monday, May 16, 2011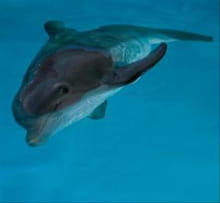 Who would have thought that a dolphin with a prosthetic tail could become a hero for those who are deemed "different" in today's society? And a reminder that all life is precious and worth saving?
Thanks to Dolphin Tale, this amazing, true story is now a big-screen reality.
It was just short of six years ago that a three-month-old dolphin was discovered while caught in a crab trap in Mosquito Lagoon in New Smyrna Beach, Florida. A passing fisherman quickly alerted a dolphin rescue organization which then transported the critically injured dolphin to the care of Clearwater Marine Aquarium in Clearwater, Florida, to begin life-saving recovery and rehabilitation.
Named Winter for the time of year when she was discovered, the dolphin wasn't expected to survive the traumatic ordeal as many dolphins die in monofilament and crab trap lines. Her tail had been severely damaged by deep rope abrasions and was quickly disintegrating. Eventually it detached and was lost, along with two vertebrae due to her serious injuries.
But how would Winter swim without a tail? And what kind of life would this mean for her? At first, animal experts were doubtful of her quality of life going forward, but then were amazed when she adapted so quickly to her new physical form.
"There were people that were potentially calling for Winter to be euthanized because what can a dolphin do without her tail," remembers Dr. Mike Walsh, a leading marine mammal veterinarian who helped develop Winter's rehabilitation program. "And it's the same thing as why would we not give people a chance and try and figure out what we can do."
Thankfully, Dr. Walsh and Clearwater Marine Aquarium did give Winter a chance, and today she is an inspiration to those born with physical limitations or those who have been injured and have lost limbs to "never give up" as they are adjusting to a new way of living.
Developing a unique swim pattern under the guidance of her marine mammal trainers, Winter defied the odds as she learned to eat fish on her own and grew quickly to her current weight of approximately 230 pounds. Along the way, though, her supervising trainers and veterinarians saw that her adapted swim pattern of swimming side to side (like a shark), as opposed to up and down as dolphins with tails naturally do, would lead to a curvature of her spine.
That's when a leading human prosthetics company stepped in. Hangar Prosthetics and Orthotics, Inc. was contacted to see how they could help Winter, and soon the first of many variations of a tail to fit over Winter's peduncle was designed and tested on the courageous, young dolphin. Using physical data from scans and molds, the team at Hangar generated a replica of her peduncle and then created a special gel sleeve made of a sticky type of material that gave the suction necessary for the tail to stay in place while not damaging her sensitive skin. Today, the same technology developed for Winter—including what is known as "Winter's gel"—is being used to help human patients with their prosthetic needs.
News spread of this "dolphin that could," and soon major network news programs, including NBC Nightly News with Brian Williams and NBC's morning news program The Today Show, caught wind of the uplifting story and ran coverage during their broadcasts. It was during the aforementioned broadcast of The Today Show that Producer Richard Ingber of Alcon Entertainment (The Blind Side, The Sisterhood of the Traveling Pants) first heard of Winter. He knew immediately that this was a story worth telling on the big screen, and so the process of making Dolphin Tale quickly began.
Recently on Movie Features
Have something to say about this article? Leave your comment via Facebook below!
advertise with us
Example: "Gen 1:1" "John 3" "Moses" "trust"
Advanced Search
Listen to Your Favorite Pastors