Film Set Visit: An Inspirational Dolphin Tale
Laura MacCorkle, Senior Editor, Crosswalk.com
Monday, May 16, 2011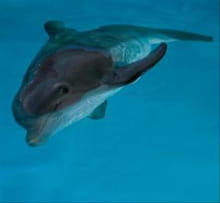 "[Charles] has this uncanny ability to pose a statement or a question to get to the essence of a scene, and it's really amazing how he's able to do that. We were at the VA hospital and you know it's this emotional scene where I'm seeing Sawyer for the first time and then trying to explain to him why I am not who I was before [losing my leg] and what this has done to me and why I can't live up to the expectations I was hoping to.

"And you know, I'm connecting to people around me, the amputees. It starts off with Kyle asking a question [to Sawyer], 'Did my mom ask you to come?' And at the core of that is his relationship with his mother. And then to have these guys all around me—these amputees and veterans. And Charles just goes, 'They all have moms, too.'"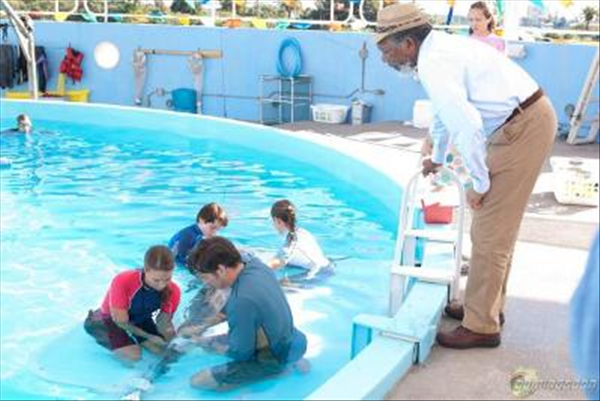 Morgan Freeman … From Easy Reader on PBS' The Electric Company to the voice of VISA in television commericals to the Academy Award-winning actor he is today, Morgan Freeman brings a wealth of experience to his role as Dr. McCarthy in Dolphin Tale. But when he first read the script, he wondered who or what would play Winter.
"I wondered how they were going to do the dolphin. Where are you going to find a dolphin without a tail? I didn't know about Winter at all."
Once on set, Morgan got to know more about Winter's tale while portraying an eccentric doctor who creates prosthetics for war veterans at a VA hospital.
"Sometimes outside influences are wonderful life savers, and I think [Dolphin Tale] is one of those stories. You have the story of a boy and a dolphin overcoming doubt—the dolphin's doubt and the boy's lack of focus. …The idea of focusing is inherent in this story about Sawyer whose focus is drawn to this situation with this dolphin. And his mother, bless her, sees that and makes it work for him and her. It's great."
Outside of acting, the avid blue water sailor and jet pilot says that being outdoors and "amongst what we will call God's works" is what is truly inspirational to him. And he also believes moviegoers will take away inspiration as well from Dolphin Tale.
"There are three stories involved here of people who were in need of inspiration, hope. Kyle, Sawyer and Winter. I think that if you see that it can be done, you're inspired to keep going for at least another day. So I think that's what, if people come out of [Dolphin Tale] with anything, that's what they'll come out with."
THE CREW
David Yates … As the leading voice and public persona for Clearwater Marine Aquarium, CEO David Yates has seen firsthand the impact Winter has had on people of all ages who have come to visit since she first made the facility her home.
"One guy came back from Iraq. He was in a Humvee, and an IED hit. All four guys but him were gone. The compression hit him on the right side, tore up part of his right arm and the left side was okay, but paralyzed somewhat. So he was very damaged. And we brought him to see Winter, and he cried for two hours. It's the best two hours he ever had."
Yates says connecting with people is what Winter does best, and it just made sense that she would play herself in the big screen version of her tale.
"It lends a lot of authenticity," Yates admits. "The movie has a lot of realism in it. We have a lot of our volunteers and our staff in it. A lot of how we rehabbed Winter is shown in the film itself—all the way to how we held her to how she was fed. It would be hard to make a film about Winter the dolphin and not have her be in the film itself. [Clearwater Marine Aquarium] is actually where she survived and where she was rehabbed. It adds a lot of realism to the movie itself, and we're excited about that.
Recently on Movie Features
Have something to say about this article? Leave your comment via Facebook below!
advertise with us
Example: "Gen 1:1" "John 3" "Moses" "trust"
Advanced Search
Listen to Your Favorite Pastors