Film Set Visit: An Inspirational Dolphin Tale
Laura MacCorkle, Senior Editor, Crosswalk.com
Monday, May 16, 2011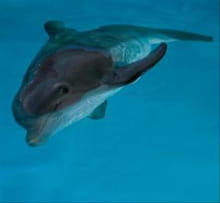 "After [Dolphin Tale] comes out, it will allow us to show the world our work. We're a nonprofit. And even more than tourists, we're excited about showing off our work and how we do it."
Abby Stone … As Winter's real-life head trainer, Abby Stone has been involved with preparing Winter for filming Dolphin Tale and working with the actors as they interact with Winter, particularly Austin Highsmith who portrays Abby as "Phoebe" on-screen.
Arguably no one knows the dolphin better than Stone, who has been with Winter since she first came to Clearwater Marine Aquarium in 2005 and has been involved in every aspect of the dolphin's rehabilitation and training her in using her special prosthetic tail.
" What is making the tail work so well for Winter is 'Winter's gel,'" she explains. "This is now being applied to human beings and has made a remarkable difference in the lives of many people who weren't able to use prosthetics very comfortably or at all. And this allowed them to do that. It's a silicone gel-based material and what it does is not only provide protection, but it provides that suction as well.
"Of course, we continue to make advancements as [Winter] learns to use these prototypes. We take that information—and she'll give us plenty of information about how she's using it and how comfortable she is and if she's ready to move on—and we'll continue to advance these prototypes here to meet her needs because essentially what [her prosthetic tail] is is a physical therapy device. And we allow her to use it every day so that we can target muscles that would normally be used for propulsion, and we allow her to exercise them. Of course, it's enriching for her as well. So we've gotten really positive results by using this in conjunction with regular physical therapy which she does throughout the day."
Perhaps another quality about Winter that endears her to so many is her natural relational quality which Stone says is inherent when it comes to this animal species.
"Dolphins are like people in a sense that they are very emotional, very intelligent and social. And we can read people very well. Somebody doesn't have to speak and you know what kind of mood they're in by their facial expression, their body language. There are so many subtle behaviors that these animals emit that we can pick up on that we know are associated with being elated and excited or being kind of down and out. So [dolphins] experience a wide range of emotions. Once you get to know an animal and you've spent many years with them, you pick it up."
Richard Ingber … If anyone deserves the grand prize for determination and perseverance in bringing Winter's story to the big screen, it has to be Richard Ingber, producer with Alcon Entertainment. Ingber first learned of Winter and her amazing impact while watching television one day.
"I was watching The Today Show one morning, and I saw a piece that they were doing on Winter," he remembers. "Before it was over, I said to myself 'What a lovely family movie this would be.' A friend of mine and I sat down and we developed a story, because we didn't want it to just be a documentary about Winter, but we wanted to create a family story that was true to Winter's story herself.
"So the movie follows Winter's true story. … There are no captured dolphins. Only the dolphins that are in the [Clearwater Marine Aquarium] or wild dolphins or CGI dolphins or mechanical dolphins."
Recently on Movie Features
Have something to say about this article? Leave your comment via Facebook below!
advertise with us
Example: "Gen 1:1" "John 3" "Moses" "trust"
Advanced Search
Listen to Your Favorite Pastors