Film Set Visit: One Day in Utopia
Laura Jenkins, Crosswalk.com Contributing Writer
Friday, September 10, 2010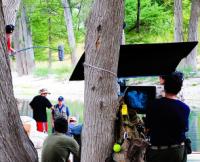 As the bus rolls west on Highway 90, concrete and high-rises give way to cotton fields and stores with names like "Cowboy Basics" and "Jimbo's Country Kitchen." Ramshackle billboards advertise hand-dipped ice cream and chicken-fried steak, while endless fields of cactuses and cattle watch lazily while the world goes by.





I silently wonder how to get to Utopia, a question many a dreamer has surely asked. According to a makeshift road sign all we have to do is cross West Squirrel Creek, take a right at the convenience store, cross the railroad tracks, and go straight for another 22 miles. One way or another we'll get there. I am traveling with about 25 journalists and critics to Utopia, Texas (Population 246) to visit the set of a new film titled Seven Days in Utopia. The drive alone speaks volumes about the vibe of the upcoming movie.




About 30 minutes later we arrive at "Utopia Golf," a sprawling, peaceful course nestled in the Texas hill country. The rustic yet comfy clubhouse is where we'll begin learning more about the project. The film is based upon the book, Golf's Sacred Journey: Seven Days at the Links of Utopia, written by renowned sports psychologist Dr. David L. Cook. Cook, a very kind and gentle man, explains how the book came to be. A very successful mental coach for professional athletes and pro golfers, he also enjoys leading men's retreats. One day he was in an open pasture of his family's ranch, thinking and praying about an upcoming retreat. As he surveyed the landscape he noticed a seed bin; it was a 75 year-old antique that had literally become part of the terrain.





"I went over and lifted the lid of the seed bin," Cook recalls, "and it was about one-fourth full of seed that had never been planted. I reached my hand in there and watched the grain run through my fingers. The parable hit me hard." When the event finally came, Cook encouraged the men at the retreat to find the unplanted seeds in their own lives and fearlessly sow them. As he admonished the others he noticed that there was seed in his own hand, which prompted him to ask for divine direction. He says the answer came almost instantly: "I have called you to write."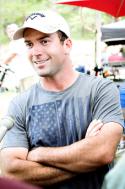 Cook got the idea for the book about three weeks later after wandering on to a makeshift driving range near Utopia, Texas (which now, by the way, is the aforementioned nine-hole course.) Shortly thereafter he says the fictional tale was being poured in—or rather through—him. The story revolves around aspiring golfer Luke Chisholm (Lucas Black, Get Low) who blows it at an important tournament. (Side note: Black is apparently known as one of the best golfers in Hollywood, which producers say makes him a perfect fit for the role.) Reeling and distressed, Luke starts driving through Texas and ends up in Utopia where he meets eccentric rancher Johnny Crawford (Robert Duvall, Get Low; Crazy Heart). What ensues is a friendship that completely changes not only Luke's paradigm, but also his life.





Changed lives, says Cook, are what he is all about. A devout Christian, he hopes that the film will impact millions of people across the globe, ushering them into God's kingdom. After Cook's sincere and earnest presentation, several from the movie's marketing team stand up to say that their aim is not only to support Cook's vision, but also to bring it to life. Citing the success of a recent stream of faith-based movies (The Passion of the Christ, Fireproof, Facing the Giants) they contend that a demand for entertainment with explicit Judeo-Christian values is on the rise. And they believe that this trend is a golden opportunity to spread the Good News to moviegoers. Perhaps, they say, it will be the next Blind Side.





Everyone loves a redemptive story, and Seven Days in Utopia is clearly nothing less. But is this a "Christian" movie? It may depend on whom you ask. During an impromptu chat with us on the movie set, Lucas Black talks about a turning point that his character reaches in the film. Apparently there's a scene where he and Duvall are at a cemetery, and Black realizes that he needs to surrender his life to God. Prayer ensues. In an attempt to clarify what actually happens in the scene, a reporter asks Black whether or not his character explicitly receives Jesus as Savior.
Recently on Movie Features
Have something to say about this article? Leave your comment via Facebook below!