Filmmaker Peter Lalonde: Refusing to Be "Left Behind"
Annabelle Robertson, Entertainment Critic
Monday, October 17, 2005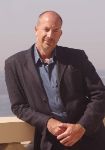 Annabelle:  Now you're once again using a brand new strategy for the release of "World at War."

Peter:  Once again, it's something that's never been done before.  Over 1,700 churches have signed up.  It's an even bigger number than it sounds because they're not multiplexes, which means that we're opening in different locations all over the country. That's more locations than the top three theatre chains, who have more screens, but not more cities and towns.  That's why it's considered a "wide release film," where you need more than 2,000 screens.
Cloud Ten is an exceptional marketing organization. We have the brightest and keenest minds when it comes to marketing Christian films.  We've undeniably sold more videos than anyone else, and probably everyone else combined.  On this movie, by building the church theatre chain, we're once again finding a good way to make a movie very present and the Christian audience very aware that we exist.
Annabelle:  What's your strategy?

Peter:  I've always believed in the church film night.  It's one of the greatest activities a church community can have.  I came in from out of the blue, without money, because I saw the promotion for a free film that sounded interesting.  That film was very good, but it was the pastor who had the right word.  The purpose of this whole church theatrical release is so that, in the end, there can be that 10-minute talk.
Annabelle:  So should churches charge to see the film?

Peter:  I think it's important and I encourage the churches to charge an admission fee.  We want this to be a demonstration to the Hollywood industry that this is a different model for release, a different way of reaching the core Christian audience that's out there, and that they are going to have to produce the kind of films that pastors will produce.  This is the kind of film that pastors want to show in their churches – not the typical feel-good, family values film.
Annabelle:  What's the difference?

Peter:  "Narnia" is a wonderful story, but it's not an evangelical Christian film.  We're creating evangelical Christian films.  We don't have a desire to make crossover movies, feel-good movies.  We want to make gospel movies.  We want to demonstrate the power of this system, the power of the church release, and leverage the studios to produce more films in this vein. And that's an important cultural upside.  No one will leave a Cloud Ten movie without hearing a gospel message and understanding what it means. 
Annabelle:  But how do you make an evangelistic film without turning it into a sermon?

Peter:  Someone will ask, 'Who is Jesus?' and then someone else answers.  It's a reality at the heart of the story.  In the past, the gospel message was often outside the story.  But in this screenplay and in the acting, Buck's own struggle is to "stand still and know that I am God."  That's a spiritual message.  Even the believers in the film are still struggling.  Buck's mad at God, Chloe's in trouble.  But when he does stand still, he leads the president of the United States to Christ.
Annabelle:  Has the success of "The Passion of the Christ" changed how Hollywood views Christian films?

Peter:  I don't think there's a great relationship between Hollywood and Christianity.  We're just two different.  Everyone thinks there is a big wide open door, but I just don't think it's the case.  We are basically not compatible with Hollywood.  There's a little open door right now, thanks to "The Passion," and it's a great thing, but the core here is to do what we do.  If the studios want to do that and invest in it, it's great.  But if we change the core of what we do to get them to invest, we're [abandoning our mission.] 
Recently on Movie Features
Have something to say about this article? Leave your comment via Facebook below!
advertise with us
Example: "Gen 1:1" "John 3" "Moses" "trust"
Advanced Search
Listen to Your Favorite Pastors