Finding Joseph in "The Nativity Story"
Annabelle Robertson, Entertainment Critic
Monday, November 27, 2006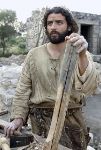 When Oscar Isaac took on the role of Joseph in the upcoming Bible epic, "The Nativity Story," the 26-year-old actor had no idea what he would soon be facing. 
It wasn't merely the thought of his first major film role, only a year after leaving Julliard.  Isaac had played opposite Rosario Dawson in the Shakespeare in the Park production of "Two Gentlemen in Verona" right after graduation.  He had also done an episode of TV's "Law and Order" and shot two other movies, including next year's "Guerrilla," directed by Steven Soderbergh, where he worked with Benicio Del Toro.
Not bad for a Guatemalan-born kid raised in Miami – even if he does look like Antonio Banderas, a few years younger.
Nor was it the weather in Matera, Italy, where "The Nativity Story" was shot – which reached a startling 115 degrees one day – that challenged Isaac.  It was, he says, the thought of playing the earthly father of God's son.
"When I was reading and working on the script, I remember thinking, 'How do I play this?  How do I play that I'm going to have the son of God?'" Isaac said.  "It's such an abstract idea."
The film, which is directed by Catherine Hardwicke ("Thirteen," "Lords of Dogtown"), focuses on Mary and Joseph's betrothal and their treacherous four-day journey to Bethlehem.  Written by Mike Rich ("Finding Forrester," "The Rookie"), the drama boasts a poignant screenplay, historically-accurate sets, and a cast of top-notch actors that include Oscar-nominated Keisha Castle-Hughes ("Whale Rider") as Mary, Shoreh Agdashloo ("24") as Elizabeth and Alexander Siddig ( "Syriana" ) as the angel Gabriel.
I recently sat down with Isaac in Los Angeles, where he discussed this momentous role and how the part impacted his own faith.  Here's what he had to say. ...


---
You look much younger without the beard.
Yeah, without the beard and the first century brow – you know?  It's a little easier nowadays. (laughs)
Mike [Rich, the screenwriter] said this isn't a typical love story.  Would you agree?
I think the fact that there's a man who loves God so fully and loves this woman so fully and has to share his love with God is pretty untraditional, yeah!  (laughs)  It's an interesting character study as well.  He has to share his wife with God.  He wanted to have a family with this woman.  He wanted to have a nice, normal life in his little house that he's building and suddenly he forced to….kind of, 'Why her?' you know?  'I love her so much, I love you so much, but why couldn't you have picked anybody else?'
It was so nice to see the character of Joseph fleshed out.  Generally, in these types of films, he's the one character who is off in the background.
Yeah, if you look at all the paintings, he's the creepy looking guy in the back with all the sheep, just trying to get a space in the picture! (laughs)
And old.
Yeah, old!  Very old.  But that's something that Mike tried to sprinkle throughout the film – where maybe Jesus learned some of the things Joseph teaches, like the comment [Joseph makes in the temple], "This is supposed to be a holy place!"  Some of those values that are maybe instilled, perhaps from his father. And really, the fact that this is a man whose whole being is one of humility. And I think that was one of Christ's major teachings.
Recently on Movie Features
Have something to say about this article? Leave your comment via Facebook below!
advertise with us
Example: "Gen 1:1" "John 3" "Moses" "trust"
Advanced Search
Listen to Your Favorite Pastors