"Flyboys" Actor Called to Preach Through His Work
Annabelle Robertson, Entertainment Critic
Monday, September 18, 2006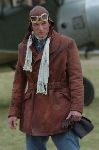 "So it was that war in the air began.  Men rode upon the whirlwind and slew and fell like archangels.  The sky rained heroes upon the astonished earth."
— H.G. Wells
It's not every day that you interview a Hollywood star and talk about all the things you have in common – much less your faith in Jesus Christ.  But that's exactly what happened when I spoke with Philip Winchester, one of the stars of the upcoming World War I drama, "Flyboys," featuring James Franco, Martin Henderson and Jean Reno.
Produced by Dean Devlin ("Independence Day," "The Patriot") and directed by Tony Bill ("The Sting"), "Flyboys" tells the story of the legendary Lafayette Escadrille, a group of 38 young men who took to the air well before the U.S. entered the war, flying newly-invented planes in order to assist the Allies.  Winchester plays William Jensen, an idealistic young man who enlists in order to uphold a family tradition of military service, but who soon loses any illusions about the horrors of war.
Plucked from Montana at the age of 14 to appear in "The Patriot," Winchester attended the London Academy of Music and Dramatic Art (LAMDA) then starred in several stage productions, including "The Crucible," "The Master and Margarita" and "Blood Wedding."  In 2004 Winchester landed his first major film role opposite Bill Paxton, Anthony Edwards and Sir Ben Kingsley in the futuristic production "Thunderbirds."
While living in England, Winchester also became firmly acquainted with drugs and alcohol, partying his way to success.  Fortunately, God had other plans.
Here's what Winchester had to say. ...

---
What an interesting film – the first World War I aviation film in more than 40 years.  How did you become involved?
I was at home in Montana doing a play with my father, who is also an actor and a director.  I received the script and was struck at how brilliant it was.  I loved it – it was great, with great characters and a true story.  I came in to Los Angeles as soon as I could, and I met them and they kept bringing me back in.  This went on three or four times until finally, after they had gone to London and cast a few parts, they asked me to play the part of Jensen. 
That had to be exciting.
It was a huge break and a huge deal, because a lot of my heart is in London.  I was there for six years and I trained over there.  My mother is English and her family lives over there.  So it was great to not only land the role but to film in England.
I lived over there, too.  Right near where you attended the LAMDA.
Oh, that's amazing!  It is such an amazing city, isn't it?
It is.  So you're half-British?
I am half British.
Which means you're getting that whole going-home-to-your-roots connection.  I think that's almost a spiritual thing, when you go somewhere and immediately feel like it's home, then discover that you have family or ancestors who have lived there.
It is.  And actually, my spiritual journey started in London.  That's where God really reached down and said, "All right, dude. You're coming with me."
Don't tell me it was at Holy Trinity Brompton. …
It wasn't at H.T.B, but it was at a church called St. Mary's, an offshoot of H.T.B. in Bryanston Square.
H.T.B. is where I came to Christ.
Did you really?!  That's fantastic!
Recently on Movie Features
Have something to say about this article? Leave your comment via Facebook below!
advertise with us
Example: "Gen 1:1" "John 3" "Moses" "trust"
Advanced Search
Listen to Your Favorite Pastors