"Flyboys" Actor Called to Preach Through His Work
Annabelle Robertson, Entertainment Critic
Monday, September 18, 2006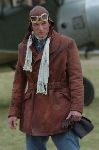 I did.
Well, [H.T.B. started the Alpha course, and] that's where I became a Christian – on an Alpha course!
Me, too – more or less.  But enough about me!  How did all this happen to you?
Well, I grew up in kind of a Christian household but it was presented as a religious idea.  I basically grew up in the church and it was boring.  I didn't like it.  I didn't like how it was presented. I knew these guys outside of church and they'd dress up with their Sunday face and that was it.  I didn't see any power.  It didn't seem like it was something you needed to do every day in your life to get by.  So, when I moved to London, I was in college and I did the London thing.  I bought a motorbike and I started smoking and drinking and partying.  I said, 'Well, this is it.  I want to be a bad guy for awhile.  I'm going to rebel, basically.
So I did that for a few years.  During my third year of drama school at the London Academy I met a girl one night on the London Underground. I had been partying and she had seen that I was out of it a little bit.  She helped me get on the train and she helped me get off the train and she helped me get home.  She called me a week later and asked if I wanted to have coffee with her. She was pretty, so I said okay.  When I met her down in Kensington, it was in front of St. Paul's Onslow Square [Ed. – another church plant from H.T.B.].  We had coffee, but she said that the reason she had brought me down there was that she went to church in the evening.  I was furious.  I could not believe that she had tricked me with her looks.  I was really angry with her, but I said, "We're here, so you might as well take me.  Let's go. Bring it on."
So I basically played that rough guy card – showed up, went to church. And I saw that it was different right away, but I wasn't going to say anything.  But I was completely struck down and started bawling.  I had no idea.
All on that first night?
That first night.  So after that, I'd show up and hang out on my motorbike, so everyone could see me on my bike and I'd smoke and I'd drink.  One night on an Alpha Course the pastor, Jon Peters, came up and said that he wanted to pray for me, and if that was okay.  I was like, "All right.  Bring it on."
But what was it that made you agree to go on the Alpha course?  Of course, it's for nonbelievers, but people still have to agree to go.
It was the free food.
Ha!  But, I suppose, you were a college student.  And I firmly believe that you've got to give people free food to get them to come to church.
You're right.  It's gotta be free, and it's gotta be good!  That's what hooked me.  
So what happened that night?
Jon, the pastor, offered to pray for me.  I said, "What's the worst that can happen to me, right?"  He said, "We really believe in the power of God.  We ask God into our lives and he wants to relate to us."  So they prayed in the power of the Spirit.  I didn't know what that was then, but they laid hands on me.  And, basically, I can only describe it this way.  You know when, in "The Lord of the Rings," Frodo puts the ring on, and he's just washed; he's just washed over with these blue flames.  I felt like I was being washed and cleansed.  Of course, by then I was on this pile on the floor sobbing and weeping and I literally felt this voice – that I now know to be my Father – saying, "Philip, it's time to come home."
Recently on Movie Features
Have something to say about this article? Leave your comment via Facebook below!
advertise with us
Example: "Gen 1:1" "John 3" "Moses" "trust"
Advanced Search
Listen to Your Favorite Pastors