"Flyboys" Actor Called to Preach Through His Work
Annabelle Robertson, Entertainment Critic
Monday, September 18, 2006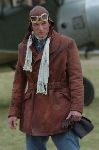 Oh, Philip!  You're making me cry.
Yeah, God was like, "You're coming home."  And I said, "Okay."  I was totally set free from drug addiction and alcohol – everything.
You were really addicted?
I was hooked, and God set me free that night.  It was in that moment that I realized, this isn't your happy, go-lucky, be-a-good-person kind of deal.  This is a God who cares for you, but he's flippin' powerful!  And he's gonna do whatever it takes to get you to come home, ya know?  That, to me, is what I hope I bring out of Hollywood.  That's what I try and do out in Hollywood.  It's not about being a good person.  It's not about being happy.  It's about being real and it's about understanding that you're not doing this by yourself.
What do you feel like God has given you in terms of a calling as an actor?
You know, I'm really fortunate.  I have a group of guys that meet on Saturday mornings and they're all involved in the business. And we hold each other accountable.
Any names I might know?
Adam Campbell, who was just in a film called "Date Movie."  He had the lead.  And some other guys who work with agencies.  And Don Williams, who used to be one of the pastors at the Hollywood Vineyard, he's one of our mentors.  Adam and I met him at a conference in London and God just put it on our hearts that we were supposed to start this group. And it's just taken off.  I mean, the things that God has healed, the things that God has walked us through – and is walking us through right now – are just huge.  Every week, we put it on the table, and we pray for each other.  Because that's where it's at.
That's very cool – and so important, especially in your field.  So how much did you enjoy shooting "Flyboys"?
Oh, it was unbelievable.  Unbelievable.
And I know you enjoyed being in England.
Being here was incredibly important.  One of the things that England has that America doesn't is the age, history and culture.  There's a weight to everything around you.  The trees, grounds and buildings look tired, established, with a touch of class.  Shooting here, with the airfield that is like a moving museum, it feels like it's supposed to feel.  It wasn't hard to imagine ourselves in 1916 France. 
Tell me about your character.
Jensen wants to prove to his family and prove to himself that he's a man.  I think he slowly realizes the reality is not the heroic, pretty pictures he's had in his head. It's death and destruction. The war doesn't build him up, it breaks him down. He can't handle it. He snaps… I think he realizes he's not a knight or hero. As much as he wants to prove to his father he's a warrior, it's not going to happen.
What do you hope people will take away from "Flyboys"?
That we can't do it on our own. We need community.
You're in Hollywood, and you're about to become a star.  What do you think God is doing in terms of your calling to act?
I honestly feel like he's called me to be a preacher.  But it's not a preacher in front of a congregation.  It's a preacher through my work and the people I meet.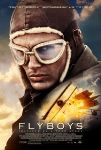 Starring James Franco, Jean Reno, David Ellison, Martin Henderson, Jennifer Decker and Philip Winchester, "Flyboys" is rated PG-13 for war action violence and some sexual content. Distributed by MGM Distribution Co. it opens in theaters nationwide on Friday, September 22, 2006.

Click here for more information.
Recently on Movie Features
Have something to say about this article? Leave your comment via Facebook below!
advertise with us
Example: "Gen 1:1" "John 3" "Moses" "trust"
Advanced Search
Listen to Your Favorite Pastors