Fourth in Popular Series, "Love's Abiding Joy" Now on DVD
Annabelle Robertson, Entertainment Critic
Monday, January 08, 2007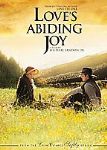 Release Date: January 2, 2007
Rating: PG (for mild thematic elements)
Genre: Faith-Based Drama/Western
Run Time: 87 min.
Director: Michael Landon, Jr.
Actors: Logan Bartholomew, Brianna Brown, Erin Cottrell, Kevin Gage, John Laughlin
Following the hit Hallmark Channel trifecta of "Love Comes Softly" (2003), "Love's Enduring Promise" (2004) and "Love's Long Journey" (2005), this fourth DVD in the Janet Oke/Michael Landon, Jr. series arrives after a limited theatrical release from FoxFaith Films, a subsidiary of 20th Century Fox aimed at Christians. Despite the fact that it's an imperfect movie, if video sales are any indication, it will do very well with its audience.
The LaHaye family is eking out a living on the Western frontier, far from their loved ones, in 1885. Recent droughts and cattle plagues have hurt all the ranchers, including the LaHayes. Some have even lost their land. But most remain upbeat. To help out, Missie LaHaye (Erin Cottrell) works as a schoolteacher, a job she enjoys and excels at. Her husband, Willie (Logan Bartholomew), takes care of the ranch, but eventually accepts a position as the town sheriff, for the salary. When Missie's father (Dale Midkiff) comes for a visit, after many years apart, all seems well.
But, early one morning, the LaHayes discover their baby girl dead in her crib. Unfamiliar with Sudden Infant Death Syndrome, they have nevertheless fallen victim to it. And, not suprisingly, the tragedy upsets the family's precarious balance. With few friends, no self-help books and certainly no grief counselors, the LaHayes do what everyone did back then – they muddle through. Missy becomes very depressed, however, which causes her and her husband to grow apart. Even their pastor-turned-rancher friend, who is about to lose his ranch, is unaware of their deep despair.
Willie has other problems, as well. In addition to dealing with his child's death, a new job and running his ranch in absentia, he must now throw his friends off their land. It turns out that the mayor (John Laughlin), for whom Willie works, is quite the shark. He's loaned money to several families in exchange for their ranches, as collateral, and now he's calling in the debts. As the town sheriff, Willie must enforce the law. To complicate matters, Willie's adopted son Jeff (Drew Tyler Bell) is falling in love with the mayor's daughter – and the mayor is not happy about this at all.
This film series, based on the novels by Oke and directed by Michael Landon, Jr. , was made for the Hallmark Channel and have all been shown on television, so they definitely have a television feel. They are dominating the CBA DVD market, however. "Love's Long Journey" is currently number one; "Loves' Come Softly" is number two; and "Love's Enduring Promise" is number four. So clearly, Christians are resonating with these family-friendly movies. And, while they're not Oscar material, they're still enjoyable entertainment in the style that, ironically, "Little House on the Prairie" was.
Have something to say about this article? Leave your comment via Facebook below!
advertise with us
Example: "Gen 1:1" "John 3" "Moses" "trust"
Advanced Search
Listen to Your Favorite Pastors