From "Goof Off" to "Barnyard": One Director's Animated Rise
Annabelle Robertson, Entertainment Critic
Thursday, July 27, 2006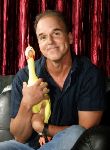 Steve Oedekerk is a real animal.  A cow, in fact.  And even though the Oscar-nominated director voices an entirely different character in his upcoming children's film, "Barnyard," Otis the cow is exactly what Oedekerk used to be like. 
"I literally just wanted to goof off," he said, during a recent interview.  "I thought that was everything 
"Barnyard" tells the 'story behind the story' of some farm animals who come to life every night, partying and doing whatever animals would do, if they were … well, human.  When the farmer's away, this film says, the animals will play – and play they do, voiced by some very recognizable names, such as Danny Glover, Andie MacDowell, Courteney Cox Arquette and Kevin James, to name just a few.
But "Barnyard," said Oedekerk, who also wrote the screenplays for the "Ace Ventura" movies, as well as "Patch Adams," "The Nutty Professor," "Bruce Almighty" and "Jimmy Neutron: Boy Genius" (for which he received an Academy Award nomination), is more than just fun and games.  "This story is very personal to me because my sister and I are adopted; there's an underlying theme about how great adoption is," he explained.  "That's a cool thing for me."
Here's what else he had to say about the film, his faith and the kind of children's humor he hates in movies. …

---
Annabelle Robertson:  You've done animation before, of course, with "Jimmy Neutron."  How'd you get the idea for "Barnyard?"
Steve Oedekerk:  I was at a friend's house, and his dog was looking at me.  And everywhere he went, it just kept looking at me.  Since I am overtly visual, I had this image of me leaving the room and the dog standing up on two legs and saying, "Man, it's about time that dude left."  And he strolls over to the cat, and they go back to playing poker.  It was just this funny little thought but it stuck with me.  And it wasn't too long before I thought, 'Boy, that could really make a cool movie.'
      
Annabelle:  How hard was it to get the film made?
Steve:  Not hard.  I was working on a demo for it at my house and someone from Nickelodeon was over there, after "Jimmy Neutron," and saw it.  They chased me for that thing for three years, but I was busy, so we finally did it.  That's a familiar rhythm for me.  I tend to think about what I want to do next, and then I figure out a way to get it done.  I've been sort of lucky that way. 
Annabelle:  Very nice.
Steve:  Well, I'm not cocky about it, because sometimes it means paying my own money to do it.  But generally I've been lucky.
Annabelle:  Tell me a little about your background.  Where did you grow up?  What were your parents like?  What did you do as a teen?
Steve:  They were awesome.  One of the things that goes on in "Barnyard" is "What is family?"  My parents are my parents, and I think that a lot of times people who aren't adopted think it's a biological thing.  My own kids are the only blood relatives I know.  The concept of having a closer bond with them than my mother had with me is crazy. It's about who cares for who and who loves who.  There's a message of "What is family?"
Recently on Movie Features
Have something to say about this article? Leave your comment via Facebook below!
advertise with us
Example: "Gen 1:1" "John 3" "Moses" "trust"
Advanced Search
Listen to Your Favorite Pastors