"Hangman's Curse" – First of Several Peretti Works on Film
Annabelle Robertson, Entertainment Critic
Wednesday, March 31, 2004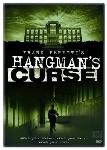 Don't let the PG-13 rating fool you.  20th Century Fox's little film that could, "Hangman's Curse," which comes out on video/DVD this week, is perfect for kids – even younger ones. In fact, the movie is so clean, it's hard to believe that most of the other films that have come out this year share the same rating.
Derived from the book by Frank Peretti, "Hangman's Curse" is the first in his Veritas Project series, which is aimed at teens and 'tweens. The movie eschews a direct message about Christianity, opting instead for subtlety. It's a thinking kids movie, with lots of opportunity for discussion, but it's also a top-notch production with a credible plot, great acting and solid cinematography.
The film opens with the third football player in a row being overcome by a strange and sudden illness. Apparently, the players have seizures along with hallucinations of young Abel Frye, a student who hanged himself after being mercilessly bullied years ago. They are dying, and no one can figure out the cause. The boys suspect it may somehow be linked to their bullying – especially of the creepy Goth students – but they can't prove it. And, as more players fall ill after finding a mysterious hangman etched in their lockers, they can't stop it, either.
The school principal calls in the Veritas ("Truth") team, one of many elite squads of undercover agents used by the government for situations such as these. The Springfields are a regular family comprised of mother Sarah (Mel Harris, "thirtysomething"), the scientist; father Nate (David Keith, "Daredevil," "Behind Enemy Lines," "Officer and a Gentlemen"), who poses as the school custodian; and twins Elisha (Leighton Meester, "Once and Again," "Boston Public") and Elijah (Douglas Smith, "Blast from the Past," "Lock Her Room"). Elisha becomes part of the popular crowd, and soon finds herself falling for one of the football players. Elijah becomes one of the geeks, where he observes bullying firsthand.
Together with Professor Algernon (Peretti) and their smell-savvy canine Max, the Veritas Team discovers that the Goth kids have delved into the occult, which eventually backfires on everyone. Fortunately, however, their scientific sleuthing pays off with answers to even the deadliest of questions.
Unlike other "Christian" films, which rely on lack of competition in the field to attract a following, "Hangman's Curse" is a cut above. Although it contains one scene with drugs (which garnered the PG-13 rating), this takes place when the Veritas Team goes undercover, at the beginning of the film, to catch a high school drug ring. The language is clean, yet perfectly true-to-life for teens, with themes of bullying, cliques and teenager angst.
The actors all perform well, portraying a family who works and plays together, and who is accepting of things like bi-racial dating – providing the young man is a believer (which he does become) who wins the parent's acceptance. We also see kids who act like kids, who struggle with acceptance and peer pressure, and who sometimes speak back to their parents, but who are nevertheless respectful. It's a relief to see such good role models portrayed realistically in a mainstream film.
No stranger to thrillers, author Peretti was dubbed "the king of the Christian Fiction genre" by "Time Magazine" several years ago. Although he's also been called "the Christian Stephen King," Peretti's 18 novels actually have little to do with King's, which have an unnerving tendency to mock Christianity while uplifting terror to unreachable heights.
Recently on Movie Features
Have something to say about this article? Leave your comment via Facebook below!
advertise with us
Example: "Gen 1:1" "John 3" "Moses" "trust"
Advanced Search
Listen to Your Favorite Pastors