Helping Hands Get The Help Done
Laura MacCorkle, Senior Editor, Crosswalk.com
Monday, August 08, 2011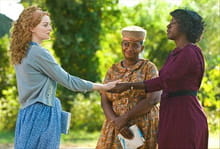 But to get into the headspace of such a strong-willed housekeeper who has lost so many jobs because of running her mouth, Spencer had to first take a closer look at her home life. Tough as nails as she is on the job, after hours Minny turns surprisingly more subservient, and even fearful, as she endures abuse at the hands of her husband.
"Quite honestly, me being a modern-day woman, I kept asking myself why does she stay?" reveals Spencer. "She is such a strong woman, and until I did the research about spousal abuse and why women stay, I don't think I could embrace the character.
"I basically came to the conclusion that it showed much more courage to stay for her children," Spencer continues. "But then things got to the point that her life was basically threatened, and her friendship with Celia helped her to see that she didn't have to take it."

Bless Be the Ties That Bind
As Minny's newest employer, Celia Foote is yet another societal outcast in a sea of southern women. A sweet and simpleminded bombshell from the sticks who's newly married to Junior League president Hilly Holbrook's ex-boyfriend, Celia is desperately trying to be a part of Jackson's high society and accepted by the snooty ladies of the League.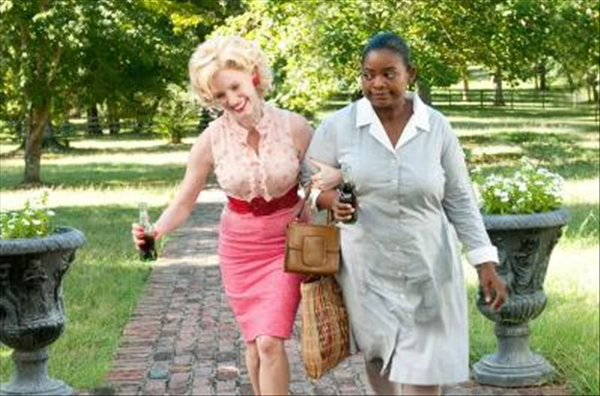 "It was so much fun to play her," admits Jessica Chastain, who recently starred alongside Brad Pitt inTerrence Malick's critically-acclaimed The Tree of Life. "When I read the script, I absolutely loved her loneliness, and the idea that this woman has so much love to give, but there's really no one to accept it.
"She can't have children, and then she's being discriminated against by friends—and even Minny discriminates against her," she explains after Minny first starts working in the Foote household. "[Minny] won't have lunch with her, and she won't hug her because she's white."
But eventually, as Minny spends more and more time in Miss Celia's home, the two see beyond the other's very different exterior and focus on more important matters of the heart.
"It's a beautiful relationship," Chastain concludes. "I think because Celia's so soft and gooey and even though she had a very difficult upbringing, Minny teaches her the strength to stand up for herself and to realize that she doesn't need to get attention or worth from someone else. And I believe Celia helps Minny soften and to love."

People Get Ready
It's not long before Minny is coerced by Aibileen to share her own stories for Skeeter's secret book project as well. Interview by interview, the maids get past their fear of the retaliation from white families that could affect their livelihoods—and even threaten their very lives—as women of color living in the uncertainty of the era. But "change begins with a whisper," like the film's tagline says. And these two housekeepers, and a whole host of other help who eventually agree to share from their experiences, find unity in courage and voice.

Skeeter finds common ground with her new friends as well. But will she ever find acceptance in her other circles—family, society friends and otherwise?
Described as "a bit of a misfit" by Stone, Skeeter defies convention by wanting to put marriage and family on hold for a little while so she can pursue her dream to be a writer. But she feels like an outsider in this place she used to call home. Everyone is scrutinizing her life choices, including her mother who just won't let go of her own wishes for Skeeter—namely a husband and a home.
Recently on Movie Features
Have something to say about this article? Leave your comment via Facebook below!
advertise with us
Example: "Gen 1:1" "John 3" "Moses" "trust"
Advanced Search
Listen to Your Favorite Pastors