Helping Hands Get The Help Done
Laura MacCorkle, Senior Editor, Crosswalk.com
Monday, August 08, 2011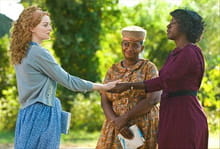 A comical balance to Hilly's more "villainous" role is her character's equally outspoken yet eccentric mother, Missus Walters. "She was a bit of a 'pepper pot' which I liked," shares Academy Award-winning actress Sissy Spacek who inhabits the spicy role with aplomb and further explains her phraseology as "somebody who's just full of it."
Most recently paired on film with Robert Duvall in Get Low, Spacek joins many of the other cast members in saying they "just wanted to be a part of it" once they'd read the story of The Help and saw the important themes of equality, reconciliation and acceptance therein.
"What we do," Davis summarizes, "well, it's like Arthur Miller created plays because he said he wanted people to feel less alone. That if you were struggling with anything you found putrid about yourself you could look at any of his characters and [identify]. So we absolutely have the power to change people. It's the power of influence, a power of people looking at a situation in a different way. Absolutely movies have a way of doing that, because they get inside of you."
One Door Closes, Another Opens
At the end of The Help, Aibileen begins to see her situation in a different way as her circumstances unexpectedly change and leave the door wide open to the unknown. But for this longtime housekeeper, it's the beginning of a new life chapter and hope for new opportunities—and equality—that is sure to come.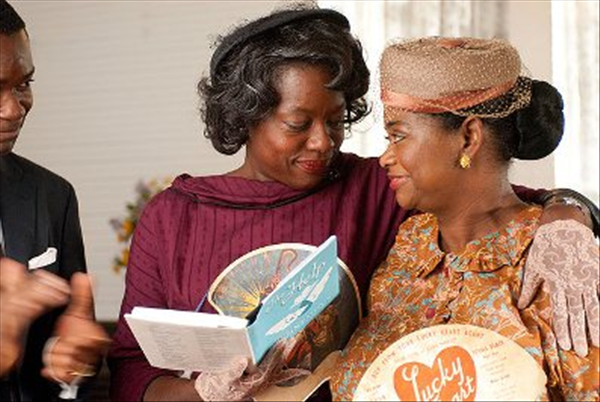 "God says we need to love our enemies," she says in narration during the closing scene as she walks alone down a neighborhood road. "It's hard to do, but it can start by telling the truth. Once I did that I felt free."
It's an intriguing final thought. But one that, interestingly enough, can't be found in the book.
"That's a line Tate came up with after production," reveals Green. "Once he completed the film and saw the full journey of Aibileen, he's like, 'I need to connect those dots. 'Cause people will say, "What happened?" or "What's going to happen to her?" She's got this whole life ahead of her.'
"So he said, 'Well, maybe you could explain what's going on in her head, that everything's going to be all right and that she's free, 'cause she finally speaks these words.' And so that's kind of where he came up with that."
Columbus concurs.
"The end of the film is less about learning to love your enemies and more about finding the inner strength to find your freedom," he says. "At the end of this film, we have an African-American woman who's essentially worked as a maid all of her life realizing that she not only may have a [new] career, but she's got a sense of freedom. And there's a sense of empowerment that to me is so strong and so important, even nowadays.
"I've got three daughters of my own. And for them seeing this movie, the greatest thing they take away from it is they can make their own choices in life. You think that that's in every person these days, but it still needs to be reinforced. And that's what I love about the end of the movie."
From a book manuscript that once received over sixty rejections from literary agents to a highly-anticipated major motion picture, The Help has certainly come a long way in just three short years. Some might say it's something that could happen only in Hollywood. But others of us know, it's just what happens when friends help friends get things—and movies—done.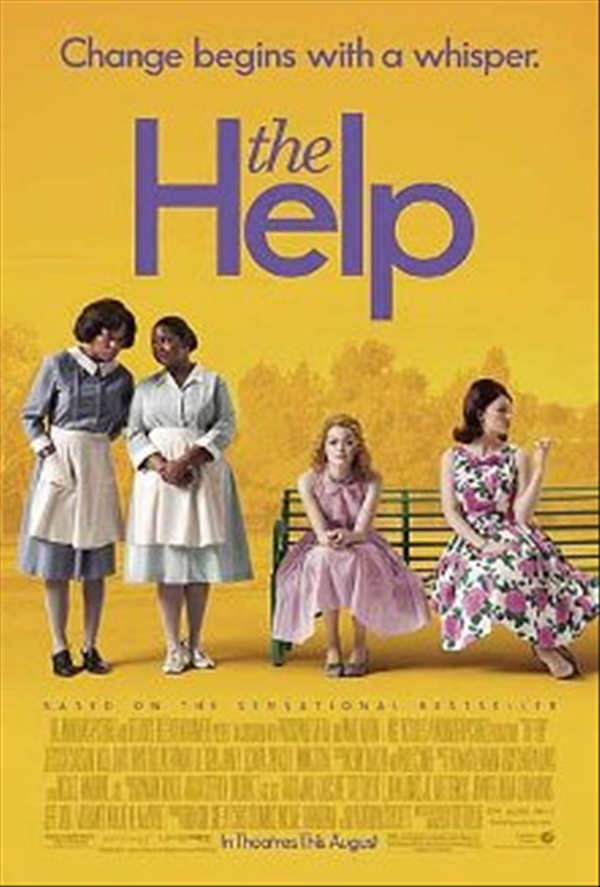 Rated PG-13 for thematic material and language, and starring Jessica Chastain, Viola Davis, Bryce Dallas Howard, Allison Janney, Octavia Spencer and Emma Stone, DreamWorks Pictures' The Help opens wide in theaters on Wednesday, August 10, 2011. Click here for more information about The Help and here for a downloadable Bible study guide. Photos © DreamWorks Pictures.
Watch this to learn more about The Help …
Recently on Movie Features
Have something to say about this article? Leave your comment via Facebook below!
advertise with us
Example: "Gen 1:1" "John 3" "Moses" "trust"
Advanced Search
Listen to Your Favorite Pastors