Girl in Progress Can Do Something Good
Laura MacCorkle, Senior Editor, Crosswalk.com
Wednesday, May 09, 2012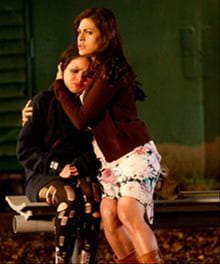 "After La Misma Luna," she says, "every Hispanic-flavored script in Hollywood was sent my way. But I'm not really interested in movies just because they are Hispanic. I'm interested in great storytelling."
The native of Mexico, wife and mother of a young daughter fully embraced translating these lives in progress to the big screen, showing what happens when a mother doesn't give the attention her daughter so desperately needs. Despite its serious subject matter, however, Riggen says she "didn't want it to feel like a typical dark indie movie" and worked purposefully to paint the picture with shades of hope.
I spoke with Riggen recently and asked her more about the making of Girl in Progress, how she was able to balance mature thematic elements with positive messages and why she thinks this film can promote healthy dialogue between mothers and their teen daughters this Mother's Day weekend.

---

Was it hard to balance the heaviness of the issues that are dealt with in Girl in Progress with its quirkiness and comedy? It seems you were able to make a film about serious subject matters very hopeful.
The first mission of a movie is to entertain and give us a good time because that's why people go to the movies. I was trying to be sure that I'm making an entertaining, fun movie, but at the same time I'm also very interested in always trying to change things and help by spreading out good messages through my work. So [Girl in Progress] I like very much because it speaks to females. It has a lot of underlying themes: single motherhood, young pregnancy, bullying. But I always like to balance it. I don't know if it's hard; it just comes natural. It's just something that I'm interested in . . . social subjects, and I'm interested in entertaining. I like to make people laugh, and I like to move people, too.

How was directing Girl in Progress different from your earlier filmmaking experiences?
This was a difficult movie, I have to say. I directed a movie called Under the Same Moon. That was my first feature film, and it was about a mother and a child separated by the border. That was first generation immigrants. Now we're talking second and third generation [in Girl in Progress]. So they're American, these girls. It's not a boy; it's a teenage girl. But the interesting thing is that even if they live in the same house, they're separated. I like the idea of how they will come together again at the end. I was a rebellious teenager myself. I had a lot of conflict with my mom, and I have a great relationship with her now. And I just like the idea that you know after all there's really a lot of love on both sides, and how can they find each other.
I am a mother, too, now. So truthfully [Girl in Progress] really allowed me now to see the other point of view, because I never understood my mother's point of view. I could understand Ansiedad's role really well, but now the role of the mother I can understand even if [my daughter is] four. I already know how hard it is, how worried you are and the choices one makes. So for me, it's also a learning experience, exploring experience.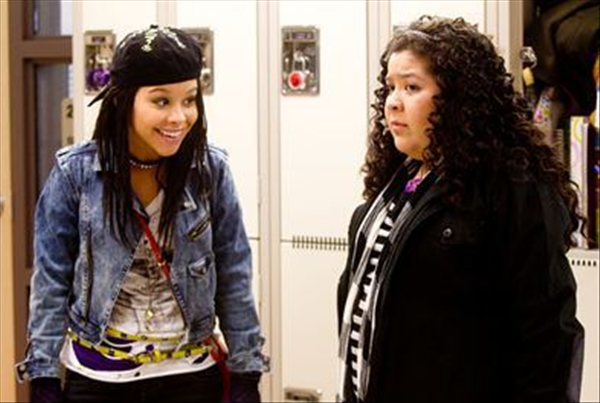 Is it good for young moviegoers to see the consequences from bad choices played out in a film like Girl in Progress?

Lately when I've been screening the movie . . . because you don't know what you have until you make it and then people's reactions really tell you what kind of movie you have. And what I've been noticing is the number of hands of single moms that were raised by single moms. It's such a big, I guess, phenomenon. This single mom situation is widespread. And unfortunately it repeats itself. It's a cycle. And the movie is about that, too. This young girl, in her search for attention and love, is going to make the same mistake that the mom did once. So I find it . . . let's say interesting for young girls to look at, because it's really exploring that issue. The other thing I've noticed now that I'm screening is that girls are really connecting to the movie, and I think because . . . it's talking about something that matters to them and that happens to them.

You don't see many films coming out from Hollywood right now like Girl in Progress.

I see the female audience still really underserved in Hollywood. I don't find a lot of movies that speak of female issues. They're hard to make, they're hard to finance, they give us tiny budgets when we make them. And if on top of that you throw in a Latino character instead of an Anglo character, it's even worse. But this movie's really not about the Latino experience; it's about the female experience. And there are very few movies out there that touch on this subject matter. So once they come along, I think it's very important for women to see them, to support them, because then we will have more because the power is in the audience to decide what's out there. It truly is. I mean, I'm so excited that this wave of movies that are being watched by women are making so much money, because that's just proving to Hollywood once and for all that the female audience needs the same amount of movies that speak to them. They're very rare.
Recently on Movie Features
Have something to say about this article? Leave your comment via Facebook below!
advertise with us
Example: "Gen 1:1" "John 3" "Moses" "trust"
Advanced Search
Listen to Your Favorite Pastors