Is Adultery Ever Funny? A Former "Other Woman" on The Other Woman
Rebecca Halton, TeamRedeemed.org
Tuesday, April 29, 2014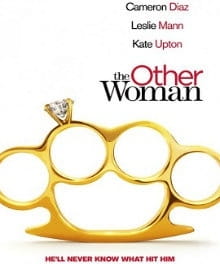 As a former "other woman" who saw the previews for The Other Woman, I was nervous to see the movie. Early buzz around the film declared it a "revenge comedy." In light of my experience it's hard to think of infidelity as funny.
But it's not just about my experience: I saw The Other Woman with Shelley Hendrix, my TeamRedeemed.org co-leader. Shelley's first husband actually left for another woman. His infidelity even led to their painful divorce.
So there we were: the woman who was once the other woman, next to the woman who was once the wounded wife. We discerningly watched Leslie Mann and Cameron Diaz pretend to be where Shelley and I were, 15 and 7 years ago, respectively.
Sure, there were parts at which I laughed – especially at Mann's physical comedy.
But the jokes that directly relate to the premise of the story – adultery – were as sad, infuriating, or uncomfortable as I had anticipated. Many of the film's semi-serious attempts at portraying adultery were also awkward.
I realize this movie was never meant to be a realistic depiction of infidelity's effects, but it did attempt some explanations for most characters' behavior. Unfortunately, most of those explanations were extreme or stereotypical. For example:
The film goes above and beyond to demonize the adulterer, even calling him a "monster," and there's an inaccurate example of justice at the end.
The betrayed wife was depicted as silly, comfortable (boring), naïve and less attractive (which is ironic because of how beautiful and fit Leslie Mann is).
The other women (Cameron Diaz and Kate Upton) were portrayed as empowered, emotionally controlled, or vixen-like and void of feelings.
It's been weird to see social-media reactions this week, in which some moviegoers call The Other Woman the funniest movie they've seen. Really? I understood months ago that the film wasn't trying to be a serious prescription for dealing with adultery, but it's nonetheless ironic that it's billed as a comedy, because it's truly tragic.
For example, it was hardest for me to hold back my tears when Mann's character was crying in her wedding dress. I knew from personal conversations that Shelley had done that at some point, too, all those years ago.
Shelley and I looked over at each other during that scene. Softly lit by the light of the movie screen, I could see her eyes – wide and compassionate – and hear her whisper:
"I remember that."
Shelley said these words as a woman who has walked the tough road to redemption. She has moved forward with her life, into ministry and a wonderful marriage with – as she puts it – a "hunk of a man." Yet that scene still triggered a tender memory for her.
I knew Shelley and I would be able to handle this film without feeling our old shame and pain: God's grace and healing have empowered us to remember without re-living. But for many women, this film will be salt on unhealed wounds.
Anticipating that sting, I encourage people who do watch, to watch prepared.
And I'm not suggesting such preparedness only if you've been wounded by adultery. Watch prepared if your teen or adult child is seeing it, too. Watch prepared if you're a giddy newlywed. Watch prepared if you're single and know you have residual hurts from dating, or your father-daughter relationship.
This movie does enough to press certain buttons of our hearts – but then does nothing to offer true healing. I'm personally not surprised, but many viewers may be unsuspecting as to how this film can actually affect them.
Recently on Movie Features
Have something to say about this article? Leave your comment via Facebook below!
advertise with us
Example: "Gen 1:1" "John 3" "Moses" "trust"
Advanced Search
Listen to Your Favorite Pastors