Jim Caviezel Eschews Feel-Good Fare in The Stoning of Soraya M.
Christa Banister, Crosswalk.com Contributing Writer
Wednesday, June 24, 2009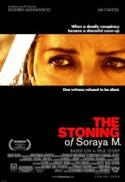 In true Hollywood tradition, this summer's movie schedule has featured many of the usual suspects—superheroes, big-budget sequels, a smattering of romantic comedies and the requisite surprise hit of the summer, which this year, sadly belongs to The Hangover, a raunchy buddy comedy about a bachelor party gone seriously awry.
Those hoping for something decidedly more substantive typically have to wait until the more "serious" flicks are rolled out in September. But if actor Jim Caviezel (Frequency, The Passion of the Christ) has anything to say about it, that's all about to change. In fact, Caviezel thinks now is actually the perfect time to shake things up at a theater near you with The Stoning of Soraya M., a disturbing and heart-wrenching film that's ultimately the polar opposite of feel-good entertainment.
When Art Imitates Life
Based on a true story that happened in 1986, Caviezel plays the role of Freidoune Sahebjam, a French-Iranian journalist whose car unexpectedly breaks down in a remote village. While waiting on a local mechanic to fix the problem with the heater, Freidoune passes the time the way most reporters would, by engaging in conversation with the locals.
But light pleasantries aren't exactly the order of the day when he comes across Zahra (Shorhreh Aghdashloo). After discovering that Friedoune is a journalist, Zahra begins describing an incident that's almost too fantastical for Friedoune to take seriously. Giving her the benefit of the doubt because of her obvious anguish and persistence, however, Friedoune begins tape-recording the conversation so in Zahra's words, "the world will know." Listening in carefully as Zahra tells the story of Soraya M., a mother of four, Freidoune can't help but be moved by what he's hearing.
Turns out that after Soraya M. refuses to give her diabolical husband a divorce (because she couldn't provide for their children on her own), thus preventing him from marrying the 14-year-old girl he'd rather be with, her husband, along with the Mayor of Kupayeh, devise a plan to have her convicted of adultery, which would eventually lead to death by stoning.
In this part of the world, women had little in the way of rights, but Zahra is clearly cut from a different cloth. Bold, impassioned and even willing to risk her safety to inspire change, Zahra sees Friedoune as a valuable voice for these voiceless victims. And for Caviezel, the universality of this story couldn't help but connect with his own heart.
"It's hard to believe that stoning still exists in the world. And while this story was still fairly recent, I found out there have been many instances just in the past year—and even the past month," Caviezel says. "In fact, my director said, 'You don't have to go any further than YouTube to see this. Just put in 'stoning.' It was a shock to say the least."
Introduction to Injustice
And while Caviezel definitely agrees that stoning is an extreme example of injustice, making the movie was an all-too-pertinent reminder that "power in the wrong hands can be very dangerous, whether it's in another part of the world or down the street."
Drawn to the courage of the characters in Soraya M., particularly of the journalist he was asked to play, Caviezel hopes the movie will serve as an important reminder that suffering is very real—and happening all around the world. "When we first showed the movie to an audience, many people were angry because they didn't realize what they were seeing," Caviezel recounts. "But the anger was more about 'How dare you show me that movie?' than the fact this problem actually exists. I mean 'How dare you make me feel like I have to do something? These are things I don't like to look at. I like happy talk.'
Recently on Movie Features
Have something to say about this article? Leave your comment via Facebook below!
advertise with us
Example: "Gen 1:1" "John 3" "Moses" "trust"
Advanced Search
Listen to Your Favorite Pastors