Joe Camp and Benji: Running Off the Leash
Annabelle Robertson, Entertainment Critic
Thursday, August 19, 2004
Joe Camp is on a mission from God. 
He knows it, and he isn't afraid to lambaste the defiant, belligerent Hollywood system that, he insists, is intent on destroying our children in the name of the almighty dollar.  
It is, he says, a calling that has cost him relationships, his life's savings and the respect of the cinematic powers-that-be.  But Camp knows that the only person worth pleasing isn't ensconced in a Los Angeles studio. And that, he insists, is what makes it all worthwhile.
"There have been times when I've begun to believe the naysayers are right, when the task appears insurmountable" he says. "I've been so low, I can't tell you… but God always shows up, slaps me around a bit, kicks me in the rear and gets me back on track."
At 65, Camp has had his share of heartache.  His beloved wife, Carolyn, died in 1997 of a massive heart attack, leaving the renowned writer, director and producer to wonder if he would ever do another Benji movie. 
Camp had been trying to write a screenplay with some colleagues in the early 70s, but nothing had panned out.  One night, he became fascinated with the way his dog reacted to a siren going off down the street.
"I started doing silly things, making noises and watching him," he said. "The dog was looking at me like, 'What in the devil has gotten into you? Have you lost your mind?' But you could see that – you could see that expression and what he was thinking."
With that thought in mind, Camp went to bed. He woke up the next morning with the story, sat down and wrote the entire treatment, longhand, in two hours.  When Carolyn read it, she had tears in her eyes.
Using some of his contacts, Camp snagged an agent, but the script kept getting sent back.  He finally found a partner in 1972 and began fundraising to distribute the film himself, while working fulltime at his own ad agency.  By March of 1973, they had raised the money and finished the script.  They went looking for the dog.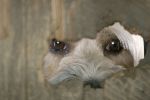 "I wanted a dog that looked like Tramp from "Lady in the Tramp,"" Camp says, with a laugh, "but I ended up with Lady, instead."
Camp finished the film and took it to Hollywood, where he was sure that at least five studios would be bidding for the rights.  All of them turned him down. 
"The number two in command at Universal Studios said, 'I would love to make this movie myself.  I love it and I could make it a hit, but I can't do it in this organization, so I suggest that you go out and figure out a way to distribute it yourself,'" Camp says.
Convinced that they were onto something, they went out and raised more money.  "Benji" premiered in 1974 at a Dallas theatre, where it did well enough to get the phones ringing.  Several months later, they released it in Albuquerque, where it set a house record.  Two weeks later, the same thing happened in Baltimore.
But it was the powerhouse city of Los Angeles that launched the lovable canine onto the national scene.  "Benji" opened in L.A. in November, 1974 – just in time to qualify the song for an Academy Award nomination.
Not to be outdone, Camp also pitched Benji for "Best Actor."
With all the buzz in the trade newspapers, comedians like Johnny Carson starting making "Benji" jokes.  Nobody realized that the film wasn't playing anywhere at the time, but soon, everyone but Benji was begging.
"It paved the way for the rest of the country," Camp says. "But that's the whole concept of what the Benji movies are about, anyway.  The dog is the three-dimensional character."
Recently on Movie Features
Have something to say about this article? Leave your comment via Facebook below!
advertise with us
Example: "Gen 1:1" "John 3" "Moses" "trust"
Advanced Search
Listen to Your Favorite Pastors