Keri Russell: Coming Back Strong
Annabelle Robertson, Entertainment Critic
Tuesday, March 08, 2005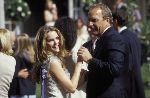 When it comes to hair, she's the female equivalent of Samson.  As soon as Keri Russell, the star of the WB television drama, "Felicity," snapped off her curly locks in August of 1999, she lost her strength.  Ratings for the popular show plummeted and, the following year, "Felicity" was cancelled.
Russell was shocked by her fans' reaction, but didn't let it affect her for very long.  In 2002, she starred opposite Mel Gibson in "We Were Soldiers," then took a role Off Broadway in the Neil LaBute play, "Fat Pig," alongside Andrew McCarthy and Jeremy Piven.  
Now Russell, who turns 29 this month, has a starring role in "The Upside of Anger," alongside Joan Allen and Kevin Costner.  The film deals with some tough issues – adultery, anger and alcoholism – and explores their impact on families.  It also explores the various ways that young adults respond to parental rejection, acting out their pain or stuffing it in desperate bids for attention.
Russell plays Emily Wolfmeyer, the second of four daughters struggling to accept her father's abandonment, even as she searches for her place in the world.  Terry (Allen), the girls' mother, has trouble expressing love and has turned to the bottle for comfort.  She discovers a drinking partner in her neighbor, Denny (Costner), an ex-pro baseball player who isn't the brightest light on the planet, but who is kind to the girls.  When Terry and Denny's relationship turns romantic, it creates just one more thing for the girls to cope with.
I recently participated in a roundtable interview with Russell, where she talked about the 'Felicity' fiasco, her sabbatical and her return to film. 

---
Q:  What's your take on the 'Felicity' hair drama, looking back on it?
A:  It's fascinating.  People really cared about it, it must have been a slow year!  What can I say? (laughs)  There was one lady in a mall who came up to me when it was kind of growing out and said, 'You were so pretty before you cut your hair!'  I was like, 'Oh, thanks.'  It still fascinates me. 
Q:  Will you ever cut it again?
A:  Yes, of course!  I mean, the whole point of it was that there was this girl in college who broke up with her boyfriend.  
Q:  Is that why the show was cancelled?
A:  No!  No!  First of all, we never had good ratings.  We had some critical acclaim in the beginning, but we never had good ratings, and after the second year they kept moving our timeslot.  It was like any show – it kind of floundered in the middle.
Q:  That will be the never-ending story of your life – you will always have to talk about your hair!
A:  It is!  It is! Why?  It's so interesting.
Q:  Maybe you should just shave your head?
A:  Yeah, really.  From now on.
Q:  Is it good to be back?  You've got a lot coming out.
A:  It is good to be back.  I took a well-needed break for a little over a year where I didn't read movies, I didn't audition, I didn't do anything and I moved to New York and just hung out with my friends and read books.  
Q:  Were you frightened that the phone might not ring again?
A:  At that point I was so tired.  I felt like my life just needed to be reigned back in, so no, I just really wanted to hear my girlfriend's stories about the guy who was a real jerk or finish whatever I was reading, some Salinger book.  I just really needed that re-group period.  In New York, it's very easy to be social, and I have really, really good girlfriends there, so it kind of saved me.
Recently on Movie Features
Have something to say about this article? Leave your comment via Facebook below!
advertise with us
Example: "Gen 1:1" "John 3" "Moses" "trust"
Advanced Search
Listen to Your Favorite Pastors