Modern Parables: A New Approach to Kingdom Theology
Christa Banister, Crosswalk.com Contributing Writer
Wednesday, September 10, 2008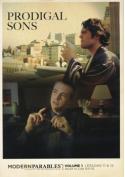 Where the Past Meets Today
Given his 15 years of experience teaching Sunday school and background in film, Purifoy wanted to create a universal study that could appeal to "almost anyone" regardless of his/her denominational affiliation, age or religious background. Inspired by Jesus' parables, he didn't simply long to put a modern spin on these time-honored stories. Instead, he hoped to provide "different explorations of kingdom theology."
"In a sense, these really are message films. But they're also a little different," Purifoy shares. "Jesus didn't use storytelling in a way to explain what He was trying to say. They are pieces and parts of His theology. The modern pastor tells a story as a stepping stone of what he's about to get into in the message. In many ways, Jesus was actually doing theology with His stories because it went part and parcel with what He was saying."
Instead of simply telling a story with Modern Parables, Purifoy hopes these "sometimes radical" accounts will cause people to investigate the implications of the stories for their lives. "The goal isn't to get the moral of the story. It's to discover how does it work out in a day-to-day way. How is the theology transformative?" Purifoy adds. "We hope to open people's eyes to what the original intent is on a storytelling level. Really, the parables are ready-made pieces of narrative theology. So we tried to stay as accurate as possible in the recontextualization to bring them to a modern audience."

Revisiting The Prodigal Son
In the latest two installments of Modern Parables, which recently released on DVD in Lifeway Christian Bookstores and through Focus on the Family's website, Purifoy investigates a familiar story with all sorts of modern-day implications in the 20-minute short, The Prodigal Sons. As a tribute to Welles' work, the film features longer, uncut scenes and non-linear scene structure. And for those of us who won't notice those little cinematic touches, Purifoy's hopes that The Prodigal Sons will connect far beyond the typical emotional level
"Ultimately, the film is used as a hook. The ultimate goal in watching is to get people to understand—and live—the parable," Purifoy says. "We hope it opens people's eyes so they can experience some emotional and intellectual resonances. Maybe it'll even give you a perspective you haven't had before."
Set at a large and prosperous healthcare company not unlike those found in any given city today, the wealthy father's two sons, Andrew and Jake, work for him of course. The older son, the classic Type A-personality that's dedicated to hard work and the achievement that comes with it, wins a huge account worth 15 million dollars. Meanwhile the younger son just doesn't have time in his social calendar to work that hard, so he spends his days golfing and in the company of pretty women. Deciding his rather limited corporate life isn't really the life for him, the younger son eventually asks his father for his share in the company. And despite the counsel of his board and the hit the company might take financially, the father grants his younger son's request anyway.
Of course, everyone knows what happens next, but there are still hidden themes that are particularly worth noting. One of the truths that's uncovered is one that Scotty Smith, founding Pastor of Christ Community Church in Franklin, Tenn., thinks the church could stand to hear. In the featured commentary section of The Prodigal Sons, Smith says the real issue is pride versus humility. "There are more older brothers than younger brothers in today's church."
For Purifoy, the account is yet another intriguing reminder of how things work in God's economy. "Ultimately, it is a parable about two lost sons whom God is seeking. Jesus is calling self-righteous people to examine themselves in light of their relationship to God and their brothers."

For more information about Modern Parables or to watch the trailer for The Prodigal Sons, please visit www.modernparable.com.
Recently on Movie Features
Have something to say about this article? Leave your comment via Facebook below!
advertise with us
Example: "Gen 1:1" "John 3" "Moses" "trust"
Advanced Search
Listen to Your Favorite Pastors