More Talk, Less Truth Found in "Conversations"
Annabelle Robertson, Entertainment Critic
Monday, March 05, 2007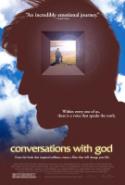 EDITOR'S NOTE: Now on DVD, "Conversations With God" is one man's true account of how he found answers from God, became a "spiritual messenger" and authored a successful book series that has sold over 7 million copies. After watching this film, Entertainment Critic Annabelle Robertson creates a fictional "conversation" of her own with the film's main character, Neale Walsch, to better explore the problems with "Conversations" and its peculiar subject matter.
Annabelle: Hello everyone, and thank you for joining us. My name is Annabelle Robertson and I have here with me today Neale Donald Walsch, who is promoting his latest film, "Conversations With God." The feature film is based on his mega-bestselling book, which spent three years on the New York Times bestseller list and was translated into 34 languages.
I'm particularly intrigued to have Walsch, who is played by Henry Czerny in the film, here with me today, because he's going to reveal why everyone on the planet is wrong when it comes to God. Thank you for joining me. Should I call you Neale or The Donald?
Neale: Neale is fine. Unless you prefer "Moses," of course.
Annabelle: Right. Neale it is. Now tell us how you came to write "Conversations With God," which also happens to have the same plot arc of the film.
Neale: Well, Annabelle – uh, is it okay to call you Annabelle?
Annabelle: Of course. Unless you prefer "Lost Soul Who Sits at Your Feet, Gobbles Up Every Word You Say Without Thinking and Who Makes You into a Ka-trillionaire." Either way.
Neale: Well, Lost Soul, here I was with a broken neck, the victim of a car accident caused by my lust for a passing woman. Three months behind on my rent and inexplicably estranged from every friend, relative, employer, ex-wife and child I'd ever met, spawned, worked for or married, I was homeless and unable to find a job. Then one day, at the depth of my despair, God spoke to me.
Annabelle: Now, in the film, all the homeless people are really clean. They're not violent, they don't use drugs and they bond like the chorus singers of "We Are the World." They dive in dumpsters that are freshly painted. I've worked with the homeless, and that's not the way it is. But however sanitized your portrait of the homeless is, I was glad to see it onscreen. It certainly makes us sympathetic toward their plight.
Neale: Well, we were homeless people on the way to enlightenment, you see. Which I got at 4:31 a.m. after I cried out to God. He answered, and he said so many things that I almost didn't know where to start, but I wrote them all down. I filled up several yellow legal pads, in fact.
Annabelle: Yes, I saw that in the film. Shot after shot of you scribbling on those legal pads. Fascinating cinema, it was. Now let's delve a little deeper into that experience. You wrote down everything God said. Does that mean that God spoke slowly enough for you to transcribe his every word? Or do you just happen to have a little stenography in your background?
Neale: No, I got it all. Every single word – word for word.
Annabelle: Just like Moses.
Neale: Exactly. Except Moses got it all wrong. Everyone did.
Annabelle: Okay. And how did you know that it was God who was speaking?
Neale: Well, that's the most amazing thing, you see. God spoke to me in my own voice!
Recently on Movie Features
Have something to say about this article? Leave your comment via Facebook below!
advertise with us
Example: "Gen 1:1" "John 3" "Moses" "trust"
Advanced Search
Listen to Your Favorite Pastors