Stephen Baldwin: Surprising, Sold-Out and Totally "Unusual"
Annabelle Robertson, Entertainment Critic
Tuesday, December 20, 2005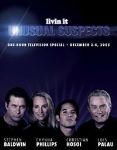 AR:  That's pretty serious stuff, Stephen.
SB: Yeah, it was.  A little old lady came up to me later, after I'd shared my testimony, and asked if I realized how God was in heaven, laughing at me, when I did that.  And I'd never thought about it like that, but He was.
AR:  So have you seen His power?
SB:  Definitely.  To date we've distributed 100,000 copies of "Livin' It" – when the goal was just 20,000 copies.  We have five "Livin' It" books, with another video coming out next year ("Livin' It LA").  The priority is sharing the gospel.  And we didn't plan for the skate tour, but in 2005 we did a 23-city tour with an average of 2,000 to 6,000 people per stop.  Over 6,000 kids came to faith this year as a result of the tour and 15,000 as a result of the video. And we're just getting started.  For 2006, 340 churches in America so far are requesting the tour.
AR:  Tell me a story about a kid whose life was changed.
SB:  Man, there are so many … but, a young boy came to Christ at one of the skate events.  Three days later he was hit by a car.  He died in his own driveway.  Some will say that's a coincidence, but for me, there have been a series of incredible coincidences that can only be described as Book of Acts experiences – a move of the Holy Spirit.
AR:  What made you decide to speak at the Republican National Convention in 2004?
SB:  For me, more than anything, the whole decision was not a political statement, although in the natural it was. Several months earlier, I had seen the Kerry camp aligning itself with all the celebrities and rock stars.  I said to myself, "Look at what these guys are doing – how they're going to spin this and what lengths they're going to go to get this guy votes."  And I don't say this lightly – I say it with all the glory and honor that should come with it – but the Lord spoke to me about it.  For all the perceptions out there about President Bush, I personally am someone who believes that he has had a true conversion to faith and, all things considered, is making his best effort to lead this country in his faith.  And, for who I am and who I was at that time in my walk, I felt like it was necessary, purely for that reason, to show that support.  My motivation was faith-based.  If you looked at the two candidates, it was my opinion that the most authentic demonstration of faith was being identified by President Bush.
AR:  You took some heat for doing that, though.  I heard that while you were inside speaking, one of your brothers was outside picketing the convention.
SB:  I did come into some conflict as a result of that decision. One of my brothers said, "Did you do your homework and look at his policies and what he does and how he does it?"  I said, "Sure, to the best of my ability, I've looked at both candidates and what they believe.  And I made my decision based on that.  Now my question to you is, 'Have you done your homework?  Have you read the Bible and understood Scripture and understood how the Holy Spirit has brought me to my decision?'"  That was a powerful ministry moment for me, to say to one of my siblings that my understanding is that, for faith reasons, George Bush should be the next president.  That has a lot of repercussions, but that was my perspective at the time.
AR:  How are the Baldwin brothers doing?
SB:  My brothers and I love each other very much, and God is moving in our family.  All of the people who have seen the TV special and my sister-in-law (Chynna) coming to Christ, hopefully everyone that sees that will start praying for that.
Recently on Movie Features
Have something to say about this article? Leave your comment via Facebook below!
advertise with us
Example: "Gen 1:1" "John 3" "Moses" "trust"
Advanced Search
Listen to Your Favorite Pastors