Taking a Walk on the Ark: Behind the Scenes of Aronofsky's Noah
Christa Banister, Crosswalk.com Contributing Writer
Thursday, March 20, 2014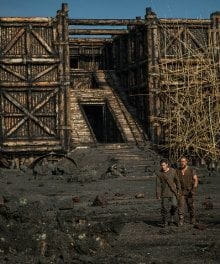 A week before Hurricane Sandy swept in with a vengeance back in October 2012, the weather in New York City couldn't have been staged more appropriately for the press tour of the set of Darren Aronofsky's longtime passion project, Noah.
Cold, damp and raining from the moment the sun came up, our call time kept getting delayed because of the less-than-stellar conditions, not that anyone complained. That just meant there was more time for strolling around Manhattan with an umbrella as we wondered what walking on Noah's Ark - or Aronofsky's vision of it, anyway - would be like.
Aside from a few film clips we were shown the night before, the project was pretty much kept under lock and key. All we knew then was that Noah was a large scale re-imagining of the biblical story and that Maximus from Gladiator (a.k.a. Russell Crowe) was playing the titular character. The rest was a little fuzzy until we hopped on a bus, crossed the Brooklyn Bridge and made our way to the set at the historic Marcy Avenue Armory.
One of the many remarkable facets of the moviemaking process is the sheer amount of people involved, and Noah was certainly no exception. Even once the sun had long since set, there was still a seemingly never-ending rotation of personnel making their way in and out, including Crowe, who stopped by to say hello.
Showing off some serious biceps, Crowe's day is done but he's still dressed in his full Noah garb, which consists of a brown tunic, roughed-up fingerless gloves and a full, wooly beard. Like many Hollywood actors he seems a whole lot smaller in person, save for the arms. But as I'd discover nearly 16 months later when I screened Noah (again in New York), his presence is decidedly larger than life on screen. Like his work in Gladiator, this feels like a role he was born to play.
A Walk to Remember
After chatting with a few of the film's key personnel (more on that in a minute), we were invited to make our way to the ark, the crafting of which involved more than a year of nailing down the design plus an additional three months to build.
Inspired by the description in the Book of Genesis, Aronofsky says they wanted to stay as true as they could to the original measurements in cubits. In modern terms, that resulted in a veritable behemoth that was 50 feet tall and 500 feet long. Constructed from wood, steel and foam, Aronofsky was intent on doing something different with the ark. For him, it was important to give the audience a different visual, not the familiar "floating houseboat with two giraffes sticking out of the top."
Boarding the ark involved a serious cardio burst. We'd been instructed to wear practical footwear, and it was quickly apparent why low-maintenance shoes were a pre-requisite. Not only was there a massive, hamstring-challenging incline leading to the ark, but once you made it inside the decks, treading lightly was a must with the sturdy but still-delicate construction. Fashioned with painstaking attention to detail, the ark was broken into three distinct decks.
"In Genesis, it talks about three decks. The bottom was for mammals, the middle was for the insects and reptiles, and the top was for birds," Aronofsky says. To keep the production from escalating into a $300+ million project, Aronofsky was forced to get creative with the animal aspect of the story. Surprisingly enough, the lack of actual living, breathing creatures didn't make the snake deck feel any less real. Crafted to look just like the real slithering things with CGI bringing them to life later, the fake snakes were still scary enough to freak me out.
Recently on Movie Features
Have something to say about this article? Leave your comment via Facebook below!
advertise with us
Example: "Gen 1:1" "John 3" "Moses" "trust"
Advanced Search
Listen to Your Favorite Pastors