The Fight for Racial Equality Fuels 42
Christa Banister, Crosswalk.com Contributing Writer
Monday, April 08, 2013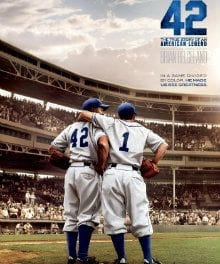 In the best baseball movies, America's pastime often takes a backseat to an even greater story.
Now following in the grand tradition of films like Moneyball, A League of Their Own, Field of Dreams and The Natural, 42 is also fueled by something far more substantial than batting averages and which teams made the playoffs once September rolled around.
The true story of American legend Jackie Robinson, 42 is about how two ordinary men took a bold stand against racial prejudice in the late 1940s.
In an age where separate restrooms and bus seats for African Americans still existed and baseball was often considered a "white man's game," the resolve of Robinson, and the man who signed him to the Brooklyn Dodgers, Branch Rickey, forever shaped culture, not to mention the game they both loved so much.
Getting Into Character
As Rickey, the forward-thinking baseball executive, Harrison Ford (Extraordinary Measures) said during a recent press event in Los Angeles that he was intentional about distinguishing himself from the screen icons he's played in the past.
And just to make sure he wasn't mistaken for Indiana Jones, Jack Ryan or Han Solo, he sported "a fat suit" (Rickey himself was a bigger guy), as well as bushy eyebrows that render him virtually unrecognizable.
"Early on, I had the idea that the film would be much better served by a Rickey look-a-like than a Harrison Ford look-a-like," Ford says. "I didn't want the audience to think they knew me from some previous experience at the movies, so I invested in trying to figure out what I should—and shouldn't—do to achieve the look of the character. What helped more than anything was the fat suit because it really gave me a sense of what it meant to maneuver at the size."
Joking that it was a rare opportunity to "play someone younger" since Rickey was 65 at the time, and Ford is knocking on 70, Ford was drawn in by the script written by Brian Helgeland (Robin Hood) who also directed the project.
"I think the best movies aren't made from a point of view that depends on your personal history, whether it's the color of your skin, your politics or even the place you come from," Ford shares. "The best movies are made from a point of view of understanding human nature, history and what motivates people from an emotional place. I think this movie tends to all those requirements, and I hope there will be more like this. This is a movie about the history of racial equality in the United States, and that makes it visceral history."
Earning the Blessing of Jackie's Widow
While many biopics deviate from the real-life details to create a more dramatic narrative, Helgeland had to earn the blessing of Rachel Robinson before moving even an inch forward with 42.
"From the beginning, I had to prove to her that the way I wanted to tell the story was the way to tell the story. She had the rights and wasn't going to sell them to just anyone," Helgeland shared.
Turns out, Mrs. Robinson was involved in every part of the process, including the script, which made for a memorable experience for Helgeland, who wanted nothing more than to "get it right."
"She was involved all the way, and I'll never forget when she walked in after reading the script. It was dog-eared and had Post-Its all over it, and I'm like 'Oh no!'" Helgeland remembers. "When she sat down, I could tell she wasn't mad, but she definitely wasn't happy. There's a scene where someone explains to her what a balk is, and she said to me, 'In what world do you think I don't know what a balk is? Have someone else ask the question, not me.' She's not like your grandmother where you're going to get away with something, she's tough. But I was so thankful for her insight in telling this story, especially with the little things."
Recently on Movie Features
Have something to say about this article? Leave your comment via Facebook below!
advertise with us
Example: "Gen 1:1" "John 3" "Moses" "trust"
Advanced Search
Listen to Your Favorite Pastors