"The Whole Ten Yards" - Movie Review
Annabelle Robertson, Entertainment Critic
Thursday, April 08, 2004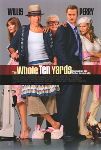 Release Date: April 9, 2004
Rating: PG-13 (for sexual content, some violence and language)
Genre: Action/Comedy/Crime
Run Time: 99 minutes
Director: Howard Deutch
Actors: Bruce Willis, Matthew Perry, Amanda Peet, Kevin Pollak and Natasha Henstridge
If you missed the first one, you're in luck. You have another opportunity to miss the sequel.
Jimmy "The Tulip" Tudeski (Bruce Willis), who faked his death in the original movie to get away from the gangster buddies he ratted on, is now living in Mexico and married to assassin-wannabe Jill (Amanda Peet). Jimmy spends his days perusing "Gourmet" magazine for new recipes and cleaning the house – in furry pink bunny slippers. Jill thinks Jimmy is crazy. This must be fiction.
Oz Oseransky (Matthew Perry) is also living the good life, with his stolen millions, Jimmy's ex-wife, Cynthia (Natasha Henstridge), and a mansion full of guns and security gadgets. Unlike Jimmy, the bumbling Oz knows that Lazlo Gogolak (Kevin Pollak), patriarch of the Hungarian Gogolak mob, is eventually going to get out of jail and come after them for killing his son (also Kevin Pollak, in the previous movie, but without the wig, makeup and glasses). Cynthia thinks Oz is crazy.