Why I Like George Clooney's "Good Night, and Good Luck"
Dr. Marc T. Newman, AgapePress
Saturday, November 26, 2005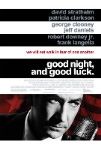 Members of the Media Can Be Heroic
Praise where praise is due. Murrow was a heroic figure to many. His trench reporting over the radio in WWII was lauded for Murrow's bravery as well as the tenor of his broadcasts – which sometimes occurred while bombs were dropping nearby. Some credit Murrow's brand of personal reporting with drawing the United States into WWII. He was a giant in his day and commanded a level of respect to which contemporary reporters, such as Dan Rather, could only aspire.
In "Good Night and Good Luck," Murrow is depicted as a man of conviction and character – willing to sacrifice, if need be, in pursuit of the truth. When a sponsor threatens to pull out of a program exposing McCarthy, Murrow volunteers to pay from his own pocket (and that of his producer) the lost revenue to the network. He is also depicted as thoughtful. He does not rush into his confrontation with McCarthy, but instead counts the cost to his network and his staff, who will most certainly come under attack as a result of his stories. What comes across as potently as the blue smoke from his constantly-lit cigarette is Murrow's commitment to truth and his desire to relate that truth in a compelling way to his audiences.
Murrow quit broadcasting long before I was old enough to care about the news. But Clooney's approach to the film seemed, if I may borrow a phrase Clooney might not appreciate, as "fair and balanced" as anyone could expect from a drama. This isn't the news – it's a movie. It needs good guys and bad guys and a plot to drive it forward. Edward R. Murrow is depicted as a person devoted to truth – with the guts necessary to back it up. Clooney shows Murrow seeing injustice and being incensed enough to do something about it. He rallies a nation to do what is right, even if it is costly. All things considered – a great message for budding journalists and truth-tellers everywhere.

Marc T. Newman, PhD (marc@movieministry.com) is the president of MovieMinistry.com, an organization that provides sermon and teaching illustrations from popular film, and helps the Church use movies to reach out to others and connect with people.
© 2005 AgapePress.  All rights reserved.  Used with permission.
Recently on Movie Features
Have something to say about this article? Leave your comment via Facebook below!
advertise with us
Example: "Gen 1:1" "John 3" "Moses" "trust"
Advanced Search
Listen to Your Favorite Pastors