Wild Horses Can't Stop Tim McGraw's Rise in "Flicka"
Annabelle Robertson, Entertainment Critic
Tuesday, October 17, 2006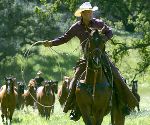 Did it come natural to you to ride a horse?
Yeah, I grew up … I can't remember not ever riding.  Working around horses all my life, since I was a kid.  My step-dad, part of his business was going out and getting lost cows and stuff, so I spent a lot of time doing that as a kid.
He's a rancher.
Well, we don't call them "ranchers" in Louisiana.  They're farmers.  (Laughs.)  But he did that.  He was a truck driver and part time, working on farms, with cowboys.  We roped and rode, so he taught me how to do that from an early age.
Wow, you can rope?
Yeah, oh yeah.  I rode in high school rodeo and rode bareback a little while and team-roped.
A man of many talents!
Well, I don't know if I was very good at anything!  I just liked to do a lot of stuff.  I need to narrow something down, though, huh?
Well, you were pretty good at guitar.  You were self-taught, right?
Yeah, yeah.  I mean, I taught myself how to play.  I'm not great at it, but I can pick out a tune or two.
Get outta here!
(Laughs.)
You were playing in honkytonks just a short time after you started playing.
Yeah, gosh. This next year will be something like 18 years that I've been playing on the road, either in a van, pulling a trailer or on a bus.  I spent a lot of time playing in clubs, seven nights a week, two or three weeks at a time. 
Do you have a music gene back there somewhere?
Well, my grand-pop was Italian.  He played violin, so I remember hearing him play violin as a kid.  And my mom sang.  My sister sang.  There was always singing around the house.  But I was a jock, pretty much.  Most of what I did was play ball. 
You played football?
Football, baseball, basketball.
Tell me a bit about why you wanted to take this movie.
Well, honestly, when I first got the script, I didn't read it.  I just said, "No," right off the bat.  I didn't want a part with a cowboy or wear a cowboy hat.  I just thought I wanted to get away from that.  Then I read the script, and I thought, gosh, the script is just written so well.  And the way they adapted it from the original story and characters.  The scenes were so rich.  Plus, doing a family movie. …"Friday Night Lights," my kids couldn't see.  So I wanted to do a movie that my kids could see.  And I really enjoyed it.  It taught some lessons and it was just written so well – so emotional – that as much as I tried and talked myself out of it, I just couldn't.
What are some of the lessons you see coming out of this movie?
Uh, to get better.  I mean, even in music, I've been doing this for so long, and I still feel like that's only 30 percent of what I can be and what I want to be.  It's just learning how to do this. It's only my third movie, my second major movie, and I've got a lot to learn.  You know, I want to just learn.  I love learning and I love learning something new and trying to get better at what I do and I'm sure 'til the day I die feel like I've left something in the bucket.
Both this movie and "Friday Night Lights" touch on a lot of paternal issues – father and daughter issues, how you relate to your father and how your father relates to you.  For you, personally, what do you dream about, especially with your background and your life story?
I think not having a … I mean, my father and my stepfather, Morris, who passed away last year, who was my father, who I thought was my father, most of the time. And that was a kinda rocky road.  But he was still my father.  But, not having a dad around in this situation that I come from, always made me want to be a good father, so I became one.  And I've been one, for nine years now.  So, and three daughters, that's what I've done. That's what I am.  I'm a dad first and foremost, before anything else happens.  It's just something that comes naturally, I guess, now.
Recently on Movie Features
Have something to say about this article? Leave your comment via Facebook below!
advertise with us
Example: "Gen 1:1" "John 3" "Moses" "trust"
Advanced Search
Listen to Your Favorite Pastors