Wild Horses Can't Stop Tim McGraw's Rise in "Flicka"
Annabelle Robertson, Entertainment Critic
Tuesday, October 17, 2006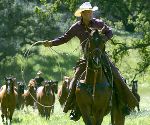 Is that from your mother's side?
Everybody.  Uh, I mean, where I grew up, everybody went to church.  It was just part of our life.  It's part of your social structure, I guess.
Is that the same with Faith?
Oh, yeah. She's Southern Baptist.  She grew up 120 miles from me. 
Is that right?
Yeah, in Stardust, Mississippi and I was in Start, Louisiana.  Pretty funny.
Did you ever think that you were going to become an actor, when you were younger?
You know, I've always loved movies.  I've always been a big movie fan, and I think there's a lot of kids who see a movie and say, "Hey, I could do that" or wishes he could do that.  So I think just as much as any other kid.  But I was so wrapped up in sports that I didn't even sing a lot.  I sang in church and things like that – at friends' weddings every now and then.  But I was more wrapped up in thinking I was going to be a pro ball player.  I found out real quick that wasn't going to happen.  I think my dad got all those genes.
You've been doing a lot to support victims of Katrina. What are you doing now with that?
We did a show down there [in New Orleans], a fundraiser show.  And then we did a charity luncheon at Emeril's, which was great.  And just, you know, figuring out places to put money, where actually gets done, where you're not just shoveling out a dollar here and a dollar there, but putting a chunk of money in certain places.  And that's an ongoing process, you know.  Something new pops up every day.  So just sitting back and knowing there's other people doing work, too, and just trying to find your spot to where you can do some good.
You were pretty critical of the government.
Well, I think everybody was.  Everybody was pretty critical of what happened down there. And I think they were even critical of themselves. Yeah, I think everything could have been done a lot better.  And hopefully it will be next time.
Would you ever want to enter politics?
One day, maybe.  I grew up in Louisiana, so that's a pastime down there – politics.  So I've always been interested in it, but that's way down the line.  I got a lot more to do before that.  But I do think that it's a noble calling, to be a public servant.  I mean, I think that you're in a position to think that this country has given you a lot that you kinda owe it to them.  It's easier to write a check, but that just doesn't quite do it for me.
So, Tim McGraw for president?
Nah.  Too many skeletons in that closet!
How about governor?
Governor sounds better, yeah.
Hey, if Jesse [Ventura] can do it. …
I can't wrestle, though. 
But you can rope a horse.
Yeah!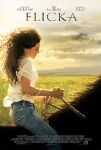 Starring Tim McGraw, Maria Bello and Alison Lohman, "Flicka" is rated PG (for some mild language) and releases from 20th Century Fox on Friday, October 20, 2006 in theaters nationwide.  Photos courtesy of 20th Century Fox.  

Click here for more information.






Recently on Movie Features
Have something to say about this article? Leave your comment via Facebook below!
advertise with us
Example: "Gen 1:1" "John 3" "Moses" "trust"
Advanced Search
Listen to Your Favorite Pastors