Witness to the Passion
Lindy Warren, Outreach Magazine
Friday, January 30, 2004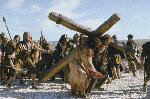 The cool night is bluish-black, and a man is kneeling, visibly anguished and intensely embroiled in conversation, asking in the guttural language of Aramaic for "this cup" to be taken from him.
In the darkness, a gaunt, hooded woman appears.
"Do you really believe one man can bear this burden?" she taunts. "No one man can carry this burden. It's too heavy. Saving their souls is too costly."
A snake slithers from her robe toward the man who, for the first time, has diverted his eyes to this enemy. Suddenly, and without warning his foot comes down, crushing the serpent's head.
In this dramatic two minutes, Hollywood heavyweight director Mel Gibson sets the stage for the horror, beauty, brutality and ultimate victory of the crucifixion, as retold in what is arguably the year's most talked about film release, "The Passion of the Christ."
After Feb. 25, Ash Wednesday (the film's opening date), millions of people may find the same significance in the cross that Gibson has discovered. At least that's his hope — as well as the hopes of thousands of pastors and church leaders nationwide who see the watershed film as an opportunity to engage the unchurched and respond to their questions about Christ and His sacrifice.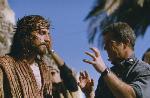 "I want this movie to affect people on a very profound level and reach them with a message of faith, hope, love and forgiveness," Gibson told Outreach magazine. "Christ forgave even as He was tortured and killed. That's the ultimate example of love."
For Gibson, who has earned both respect and Oscars from Hollywood for his big screen portrayal of heroic figures like William Wallace in "Braveheart" and Benjamin Martin in "The Patriot," putting the Gospel on the big screen meant stepping into both spiritual and professional deep waters to make what he calls the "most difficult film I've ever done."
"It's difficult because Christ's Passion was difficult," Gibson told Outreach. At 47, he is the third most powerful man in the entertainment business, according to Entertainment Weekly magazine. And while many celebrities with his status would play it safe, Gibson, like so many of the characters he's chosen in his career, is championing a greater cause.
Actor Jim Caviezel who has flown under Hollywood's radar in films like "Frequency," "The Thin Red Line" and "The Count of Monte Cristo," realizes that accepting the role of Christ in the film was what some in Hollywood might call a potential "career-breaker."
"Mel actually said to me when I took the role, 'You may never work again,' " Caviezel recalls. "But I can go down with the ship. If this is the one that takes me out, that's fine.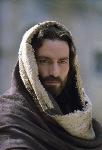 "My prayer was literally, 'I just want everyone to see Jesus. That's it! I don't want them to see me," Caviezel shared with Outreach. "Then the second part of it was, 'Because they see Him, conversions will happen.' This film is going to be sold on people seeing Christ, and if they don't believe in it, great. But at least they had the opportunity."
Personal Motivation
Directed, co-written and bankrolled (to the tune of $25 million) by Gibson, "The Passion of the Christ" began its evolution 12 years ago when the actor/director began investigating the roots of his Catholic faith during a time in his life when he was what he terms "jump-out-the-window kind of desperate."
Recently on Movie Features
Have something to say about this article? Leave your comment via Facebook below!
advertise with us
Example: "Gen 1:1" "John 3" "Moses" "trust"
Advanced Search
Listen to Your Favorite Pastors