Witness to the Passion
Lindy Warren, Outreach Magazine
Friday, January 30, 2004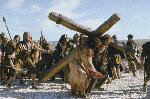 "I had always believed in God, that He existed, and I was brought up to believe a certain way," Gibson said in an interview with the international news agency Zenit during the filming. "But in my middle years, I kind of drifted, and other things took center stage. At that point, I realized I needed something more if I was going to survive. A closer investigation of the Gospel, of the story, of the whole piece, was demanded of me.
"That's when the idea started to percolate inside my head. I began to see it realistically, re-creating it in my own mind so that it would make sense for me, so that I could relate to it."
Now, more than a decade later as Gibson's L.A.-based film company Icon Entertainment prepares to open "The Passion of the Christ" on 2,000 U.S. screens nationwide on Feb. 25, the film, he says, "heals me to watch it."
"It's a strange thing. But in watching it, I've found it's actually purged me. I've never experienced a film like it. The wounds of Christ are what heal my wounds."
Not Just Another Jesus Movie
Golden locks, fair skin, blue eyes and British accents — they're all characteristics typical of the "Jesus" movies Gibson had seen before. For the man whose "Braveheart" picked up a 1995 Best Picture Oscar, authenticity and historical accuracy were paramount. And though "The Passion of the Christ" is not meant to be a documentary or a work of theology, Gibson consulted with pastors and Bible researchers to ensure authenticity and held advance screenings around the country soliciting feedback.
"I'm telling the story as the Bible tells it," Gibson told Zenit. "The Gospel is a complete script, and that's what we're filming."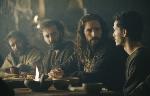 Consequently for the first time on any screen, audiences will witness the Passion in a way that many who have already seen the film say is "the closest to being there." That includes the graphic brutality of Christ's scourging and crucifixion; dialog (with subtitles) in the ancient languages; biblical and historical accuracy to the last detail, including a Coptic-looking Christ (Caviezel's blue eyes were digitally altered to a deep, caramel brown); and scenes that were filmed on the outskirts of Matera, Italy, where certain sections of the city share a striking similarity to ancient Jerusalem.
Passion Facts

In theaters: Ash Wednesday, Feb. 25, 2004
Studio/distributor: Icon Entertainment
and Newmarket Films
Screens: 2,000 throughout the U.S. ("Braveheart" opened on 2,035 screens; "Pirates of the Caribbean" on 3,300).
Director: Mel Gibson
Executive Producer: Steve McEveety
Cast: Christ: Jim Caviezel ("The Thin Red Line," "The Count of Monte Cristo"
Mary Magdalene: Monica Belluci ("Tears of the Sun," "The Matrix Reloaded"
Mary: Maia Morgenstern
Screenplay: Mel Gibson, Ben Fitzgerald
Music score: James Horner ("Titanic")
Web site: www.thepassionofthechrist.com

Graphic Violence
Perhaps the element that most sets "The Passion of the Christ" apart from other movies about Jesus is Gibson's commitment to show the horror of the cross.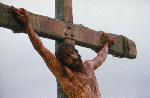 "I think we have gotten too used to seeing pretty crosses on the wall, and we forget what really happened," Gibson told Outreach. "We know that Jesus suffered and died, but we don't really think about what it all means.
Recently on Movie Features
Have something to say about this article? Leave your comment via Facebook below!
advertise with us
Example: "Gen 1:1" "John 3" "Moses" "trust"
Advanced Search
Listen to Your Favorite Pastors