Witness to the Passion
Lindy Warren, Outreach Magazine
Friday, January 30, 2004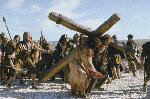 "I think this film will open up the hearts of a lot of people," says Kelly Williams, pastor of Vanguard Church in Colorado Springs, Colo. "It's going to touch at the core of what people feel: pain. I think non-Christians are going to say, 'Jesus understands me.' "
Roger Cross, president of Youth for Christ, is uncertain of how non-Christian teens will react to seeing Christ's Passion in detail, but he believes it will be an "eye-opener." One of the strongest features of the film, he says, is its ability to evangelize without being evangelistic.
"It doesn't try to convince; it just tells the story," says Cross. "You can't really walk away from it and be neutral. There's a point of deciding, 'Who is this guy?' "
Questions the film raises:
What do I really believe? Do I believe this happened? A self-described agnostic, Sorel Carradine, 18, says she was left with those two questions. "Watching the film convinced me that it was true," she says.


What does this mean for me and my life? Youth for Christ's Cross believes unchurched teens will get around to asking the "me" question, but he cautions, "Kids won't ask this question until they resolve the 'Did it really happen?' issue."


Why, if there is a God, would He allow His son to go through this? "I think that will be the biggest question," says Mission America's Cedar. "That's a tremendous opportunity to share the Gospel."


Why did He suffer? "I believe non-Christians will be appalled at the depiction of Christ's suffering, so one of the first questions will be, 'Why would anyone choose to suffer like that?'" says Dr. Gary Hearon, executive director of the Dallas Baptist Association. John MacArthur, pastor of Grace Community Church in Sun Valley, Calif., agrees, noting that the big issue for most non-believers will be the "horrible, undeserved treatment of this man."

Says MacArthur, "A non-Christian will see this as an utter outrage of justice and will have an immense amount of sympathy for what happened to Christ." Yet he believes the message that God ordained Christ to go through the horror is clear in the film, so non-Christians will also be asking how God could've allowed it. Only Christians, he says, will read their own culpability into it. "I don't think the message naturally transitions to, 'This is what He did for me, and He's actually the one who suffered in my place.' "
Carradine's reaction gives credence to MacArthur's summations: "I didn't know the extent of what He did," she says. "The whole film is painful to watch — how horrifically He was treated — but the fact that He was asking God to forgive these people who were doing this to Him really stuck out to me."
Anti-Semitic?
Because "The Passion of the Christ" has been immersed in controversy months prior to its premiere, other questions will likely revolve around the anti-Semitism issue. The issue has placed both Gibson and the film in the line of fire from critics concerned that it portrays the Jews as Christ-killers, especially at a time when anti-Semitism is on the rise around the world. Last August, the Anti-Defamation League (ADL) issued a statement saying that the film portrays Jews as "bloodthirsty, sadistic and money-hungry enemies of God" and will encourage violence against the Jews.
However, observant Jews who have seen the film say that the ADL's and other critics' arguments are unfounded.
Recently on Movie Features
Have something to say about this article? Leave your comment via Facebook below!
advertise with us
Example: "Gen 1:1" "John 3" "Moses" "trust"
Advanced Search
Listen to Your Favorite Pastors