Witness to the Passion
Lindy Warren, Outreach Magazine
Friday, January 30, 2004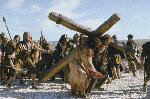 "It is not anti-Semitic," says David Horowitz, president of the Center for the Study of Popular Culture and a conservative Jew. "There is never any distancing of Jesus or His disciples from their Jewishness. And the film clearly states that it is a Jew that carries Jesus' cross and shares His miseries. The film is faithful to the Gospels and therefore the Pharisees are Jesus' enemies, and they and their flock do call for His death."
For Horowitz, the message of the film — as he perceived it — was clear: Love your persecutors. "I was in tears a lot watching the picture," he recalls. "In my view, the violence committed against Jesus in the film renders accurately what the 20th century has done to the children of God. Each time you see the worst that can happen, there's something worse than that. That to me is very much the 20th century experience — all focused in one figure, Jesus. That in itself, I found very moving."
Gibson is hopeful everyone will be "uncomfortable" and see their
own culpability.
"I want to be as truthful as possible," he told Zenit. "But, when you look at the reasons behind why Christ came, why He was crucified, He died and suffered for all mankind, so that, really, anybody who transgresses has to look at their own part in His death."
Passion for Your Community - 15 Ideas to Maximize Your Outreach
PRE "PASSION"- Plan and prepare for this unique opportunity: Pray for people who may see it.
Carefully choose a neighborhood you believe God wants you to reach. With multiple prayer teams, walk every street and pray for every house, asking God to reach each person with the message of the cross.

Preview "The Passion of the Christ."
Show your congregation the four-minute movie trailer included on the DVD in this issue. Let worshippers know the movie's outreach potential.

Connect your Easter celebration with the movie.
Connect specific themes from the film to themes in your service. Potential themes include new life from death; joy from suffering; and redemption from sin.

Plan a sermon series.
Schedule "Passion"-related messages in the weeks prior to Easter. See page 30 for ideas and thepassionoutreach.com for links to complete sermon manuscripts.

Use mailings to tell people about the film.
Focus on the parts of your community that God is calling you to reach and mail fliers, postcards and/or invitations to homes in driving range of your church. For resource materials, go to outreach.com.

Train and equip worshippers to invite friends.
The process is simple: Invest in relationships through prayer, personal contact, service and authentic acts of kindness. And equip members with invitations or cards they can use to invite friends to a "Passion"-related event with your church.

Distribute door hangers.
Give worshippers "Passion"-related door hangers to distribute to the homes surrounding your church. Use the door hangers to invite people to see the movie and to visit a "Passion"-related event at your church.

Purchase a block of movie tickets.
Make movie tickets available for church members to give to friends who don't know Christ. For more information on theater locations or how to purchase a block of tickets, call (800) 332-0965.

Host a movie event.
Talk to a local theater about purchasing tickets for every seat in a given showing for your church. Sell the tickets to your congregation and ask theater management if you can address the audience either before or after the movie. During that time, let people know about any "Passion"-related activities your church has planned in the coming weeks.
Recently on Movie Features
Have something to say about this article? Leave your comment via Facebook below!
advertise with us
Example: "Gen 1:1" "John 3" "Moses" "trust"
Advanced Search
Listen to Your Favorite Pastors