Witness to the Passion
Lindy Warren, Outreach Magazine
Friday, January 30, 2004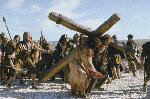 Reach out at the theater.
Have a team of youth or adults sensitively provide related follow-up literature and or invitations to your "Passion"-related church events or Easter service.
POST "PASSION"- Be ready to respond to the questions: Host "Passion" Q&A sessions.
You may want to keep these gatherings pretty informal, giving people the freedom to drop in and drop out easily and inconspicuously. Address critical questions that skeptics and seekers ask about the movie.
Host a panel of experts (pastor, professor, author, etc.).
Ask a diverse group of experts who can talk intelligently about the film and Scripture to be part of a panel discussion. Host the event in a neutral place such as a coffeehouse or local bookstore. Encourage worshippers to bring their unchurched friends.
Follow up with "Passion"-specific resources.
Several ministries and organizations are offering booklets centered on the film's themes to use either in a small group or one-on-one. For a list of ministries developing curriculum, go to outreachmagazine.com.
Invite friends to "Passion"-focused small groups.
Invite movie attendees to participate in a small group or Sunday school class that tackles themes and questions the movie presents. If you decide to preach a film-based message series, consider offering small groups during the week to discuss series' topics (suffering, love, sin, forgiveness, redemption, injustice, guilt, confession, mercy, grace, death, sacrifice, commitment, faith).
Give away Scripture.
Buy and distribute affordable New Testaments or Gospels to worshippers to give to their friends after seeing the film together. Print up a list of Old Testament references to Christ and the crucifixion, and train worshippers to use Scripture to answer their friends' questions.
The Opportunity
As already noted, "The Passion of the Christ" represents the first time in 2,000 years that Christians and non-Christians alike will have the opportunity to witness Christ's sacrifice for mankind in this way.
The Church's opportunity to raise and answer questions with unbelievers; to share testimonies; to invite people to church or small groups; and to discuss what Christ's Passion means to them personally could potentially be at an all-time high. According to Barna Research Group, 65 to 70 million Americans are unchurched, and 64 percent of all unchurched adults believe that a
good person can earn his or her way into Heaven.
"Today, so many people are searching for meaning in life, asking questions. They're looking for answers," Gibson asserts. "If people's hearts can be changed from this, that's a huge thing. I'm hoping it will have the power to do that."
Kelly Williams, whose Colorado Springs, Colo., congregation's average age is 32, points out that the film gives churches a tool to speak to the often elusive 30-and-under generation. "They've grown up in a culture that is dominated by the power of video. People are open to receive movies because they don't perceive them to have an agenda."
The film medium played better with 18-year-old Sorel Carradine, who has encountered Christians before only to be "turned off."
"I've told all my friends, 'You have to see this movie,' " she says. "I have one friend who's an atheist, and I told her that she should really see it."
Prestonwood's Graham recognizes the opportunity pastors have to tie the film's strategic premiere date with a message series heading into Easter and plans to preach a film-related Easter Sunday sermon.
Recently on Movie Features
Have something to say about this article? Leave your comment via Facebook below!
advertise with us
Example: "Gen 1:1" "John 3" "Moses" "trust"
Advanced Search
Listen to Your Favorite Pastors