Witness to the Passion
Lindy Warren, Outreach Magazine
Friday, January 30, 2004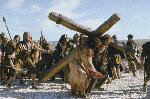 "This film combined with Easter is a huge opportunity to communicate with a culture that's visually oriented," he says. "People will be talking about this movie, discussing it at Starbucks. Thousands are going to know what He did, but they won't know why He did it."
Moreover, the film also has the potential to inspire and equip Christians across America to share their faith. "I have no doubt that the movie will be one of the greatest evangelistic tools in modern-day history." says Ed Young, pastor of Fellowship Church in Grapevine, Texas.
Gibson recalls a conversation with a young Christian who saw the movie: "She told me that driving home that night she found herself praying, telling God, 'I'm sorry Lord … I forgot.' That's what I hope for — that the people remember the sacrifice Christ made for us, that they recall the price He paid."
Will You Be Ready?
So what does this film that has been hailed by critics as Gibson's "spiritual and artistic triumph" mean for churches in the next few months? How can the Church be ready to respond to a movie that has brought people like Cher and Motion Picture Association President Jack Valenti to tears?
While Grace Community Church is still in the process of formalizing its plans, MacArthur says he will definitely tell his congregation to see the film with a non-believer, then follow it up with a thoughtful discussion. "The personal approach is always the best strategy," he says.
Prestonwood, Graham says, will offer follow-up Bible studies related to the film and plans to use or create a film-specific tract.
Kelly Williams of Vanguard has already talked to his congregation about the movie and its potential. He plans to show the movie trailer and use the film as discussion starters for the church's X-groups, developed for people who don't have a relationship with Christ.
But first priority for all churches, says MacArthur, is to make sure all worshippers are equipped and ready to answer the questions.
Mission America's Cedar encourages pastors to ask their congregations to start praying for someone who doesn't know Christ, then invite them to go see it with them. He cautions churches against prematurely "pouncing" on anyone. "We need to allow the Holy Spirit to do His work and for us then to have the opportunity to respond to the questions people are asking," he says. "One of the most effective ways of witnessing is asking questions."
Gibson says praying for "The Passion of the Christ" is the most "powerful tool," and that he knows churches have been praying.
"I hope the film raises a lot of questions, and makes people search for answers — kind of like, 'You've seen the movie; now read the Book!' That's where the churches can come in — to handle that response." Still, the man who has seemingly taken on the world with prayers and a camera lens reverts back to the original reason for what he has described in interviews as "potentially his last work."
"I just wanted to be pleasing to the Almighty, that's all. I think that I was as faithful as I could possibly be to the story as it's told, as it's related in the Gospels. And hopefully I've done work that's good enough to please Him. That's really what it's about."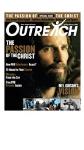 Reprinted by permission from the Jan/Feb 2004 issue of Outreach Magazine. © 2004 Outreach Magazine. All rights reserved. www.OutreachMagazine.com.





All photos used with permission from "The Passion of The Christ," a film by Mel Gibson. © 2003 Icon Distribution Inc. All Rights Reserved. A Newmarket Films release. Photo credit: Philippe Antonello.



Recently on Movie Features
Have something to say about this article? Leave your comment via Facebook below!
advertise with us
Example: "Gen 1:1" "John 3" "Moses" "trust"
Advanced Search
Listen to Your Favorite Pastors