12 Years a Slave the Definitive Slavery Film
Jeffrey Huston, Crosswalk.com Contributing Writer
Friday, October 18, 2013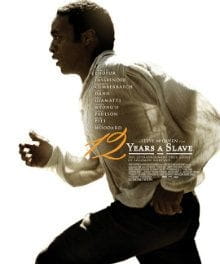 The agonies Solomon wrote of, seen here, are ones born not just by the body but by the soul. The greater struggle is to somehow let the soul arise to a place of strength that overcomes the ever-increasing physical toll the body must bear. To somehow believe there is an end to this, other than death. For many, all hope is lost. Death is the only conceivable out. We see that nihilistic despair in Patsey (Kenyan newcomer Lupita Nyong'o, in a stunning debut of tender, raw anguish). She is a young slave whose beauty captivates her owner, but who then must endure not only his abuse and rapes but also the jealous (and physical) wrath of his wife.
That slave owner is Mr. Epps, played by Michael Fassbender (Prometheus), a McQueen regular. Epps is a man of complex sadism. He indiscriminately terrorizes and abuses his slaves while also being tormented by a self-loathing he cannot reconcile with the accepted standards of the time (and its distortion of Scripture to validate such cruelty). Epps and Patsey bring our attention to one perverse strain within the Master/Slave relationship, but they also represent the extremes within which Northup's life hangs – the literal and the existential.
And yet, 12 Years a Slave is ultimately a story of hope. Its hope is not sentimental or even sensible. It is a determined faith, forged by will, in the face of overwhelming persecution. For many years, Solomon's faith is primarily in himself. His will is all he has, but eventually it's not enough. As Solomon observes the spiritual faith of his people, and as his own despair overwhelms, there is a moment when Solomon goes from respecting the spiritual community around him to actually embracing it. It happens as his fellow slaves sing the old Negro spiritual "Roll Jordan Roll," and it's the film's most powerful moment – one of true transformation. As Solomon, Chiwetel Ejiofor (Salt) lays bare everything within him, carrying the internal agony as heavily as he bears the physical suffering. He gives as much to the role, the film, the legacy of the man and his people, as you'll ever see in one performance.
For as intimate as most scenes are, their cumulative power is epic. What McQueen has accomplished is singular to its subject, and comparable to the depths Steven Spielberg plunged us into through the Nazi's Jewish Holocaust in Schindler's List. It's not for the faint of heart, and its brutality in all forms – including sexual – cannot be morally defined merely by its visual depiction alone, or the simplification of its R-rating. 12 Years a Slave is an achievement as towering as it is necessary; it's not the first film about slavery we've seen, but it's quite possibly the most definitive.
CAUTIONS:
Drugs/Alcohol Content: Alcohol is consumed. Drunkenness occurs, leading to violence.
Language/Profanity: Pervasive use of racial slurs. Infrequent sexual slurs, used to demean.
Sexual Content/Nudity: A female slave is raped by her master. Slaves are completely naked (including male and female full-frontal) while being sold, kept in pens, etc. Nudity of slaves during beatings and torture. Fondling. Two slaves kiss and engage sexually (no nudity). Sexual references and innuendos made.
Violence/Other: Frequent explicit violence throughout, of slaves being tortured by beatings, lynchings, whippings, shootings, killings, and various forms of brutality. Chokings, stabbings, and other forms of violent fighting occur. The psychological torture of slaves, including the tearing apart of families. The threat of death is always present. Blood and wounds are at times explicit. Lengthy scenes of torture. Whipping slaves while naked. All violence depicted in graphic and realistic manner.
Read about our visit to the junket for 12 Years a Slave here.
Publication date: October 18, 2013
Have something to say about this article? Leave your comment via Facebook below!
advertise with us
Example: "Gen 1:1" "John 3" "Moses" "trust"
Advanced Search
Listen to Your Favorite Pastors