A Nostalgic Story Is Found in Adventureland
Jeffrey Huston, Crosswalk.com Contributing Writer
Friday, April 03, 2009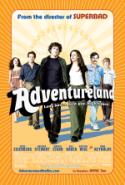 Though never explicitly stated, Mottola's incisive screenplay and direction makes the case for the necessity of good male figures by depicting what results from their absence. Young men amble aimlessly—confused and disillusioned—while young women look for affection and affirmation in the wrong people, in the wrong ways, even being wary of those who are innocent and trustworthy.
Not that Adventureland is all philosophical meditation. On the contrary, it's also hilarious. This is, after all, from the director of Superbad, although it would be fair to describe this as its mirror reflection. Where Superbad went for laughs and had a little heart, Adventureland is just the opposite—a story of heart textured by humor that elicits laughs as much for its realism (you're laughing because you've been there) as its inspired audacity (one guy's trademark of sucker punching other guys where it hurts most comes to mind, as does SNL's brilliant Bill Hader and Kristen Wiig as the fairground managers). Sure, its level of Rated-R content is similar to Superbad, but not as raunchy (while candid in conversation and situations, the film stops short of becoming visually explicit).
By the end, Adventureland works on you in a way the best coming-of-age stories do (The Wonder Years, Stand by Me, Freaks & Geeks, et al). You laugh, you're moved, you really identify, and it concludes with a perfect mixture of truth and hope. Things will end the way they do, the way they must, and not always the way you want them to. Once things are set in motion, they will lead to their natural (and even heartbreaking) ends. That, as they say, is life. But when the page turns and you begin again, well, the choice is once more up to you.

CAUTIONS:
Drugs/Alcohol: Drinking, smoking, pot smoking, both individually and in party environments (consisting of high school and college-age people).
Language/Profanity: The full range of profanities, used commonly but not constantly, including occasional sexual references.
Sex/Nudity: A few sexual situations (teens making out on a couch, in a car, at parties), including brief moments of fondling, but there is no nudity and scenes end before intercourse is depicted or portrayed. A young guy strips down to his underwear to swim in a pool (with a girl who's clothed).
Violence/Other: A few situational scuffles, but no graphic violence. Vomiting occurs.




Jeffrey Huston is a film director, writer and producer at Steelehouse Productions in Tulsa, Okla. He is also cohost of "Steelehouse Podcast," along with Steelehouse Executive Creative Mark Steele, where each week they discuss God in pop culture.

To listen to the weekly podcast, please visit www.steelehouse.com or click here. You can also subscribe to "Steelehouse Podcast" through iTunes.




Have something to say about this article? Leave your comment via Facebook below!
advertise with us
Example: "Gen 1:1" "John 3" "Moses" "trust"
Advanced Search
Listen to Your Favorite Pastors