A Serious Man Struggles with an Inscrutable God
Christian Hamaker, Crosswalk.com Contributing Writer
Monday, October 12, 2009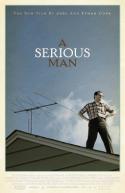 DVD Release Date: February 9, 2010
Theatrical Release Date: October 9, 2009 (limited)
Rating: R (for language, some sexuality/nudity and brief violence)
Genre: Drama
Run Time: 105 min.
Director: Ethan and Joel Coen
Actors: Michael Stuhlbarg, Richard Kind, Fred Melamed, Sari Lennick, Aaron Wolff, Jessica McManus, Peter Breitmayer, David Kang, Alan Mandell, George Wyner, Amy Landecker, Fyvush Finkel

The films of Joel and Ethan Coen are, for the most part, engaging and clever, and at times, even profound. Their Oscar-winning Best Picture from 2007, an adaptation of novelist Cormac McCarthy's No Country for Old Men, was the brothers' most serious and somber film, and also one of their best.

It seriously wrestles with evil in the modern world—something that even the most impressive earlier Coen stories fail to engage with appropriate depth. For instance, the finale of the brothers' Barton Fink strongly points to a form of spiritual chaos at the heart of the story, but the film never offers a serious investigation of Fink's malaise. Instead, "the life of the mind" takes center stage, and enough oddball characters keep the story moving amusingly along, until a final, fiery encounter that forces Fink to confront the effects of his self-absorption.
A Serious Man, the new film written and directed by Joel and Ethan Coen, is also about the life of the mind, but in this case, the mind of Larry Gopnik, the film's protagonist, is haunted by religious questions to which he seeks specific answers. The film is one of the Coens' finest efforts outside No Country for Old Men, explicitly addressing comparable religious questions and issues but adding a serious dose of the Coens' trademark humor. The story keeps viewers chuckling until the film's sudden, ominous conclusion.
Set in 1967, A Serious Man parallels the book of Job in many respects. Larry Gopnik (Michael Stuhlbarg), a physics professor, is beset by a series of misfortunes. His wife, Judith (Sari Lennick), announces her intention to divorce him and asks him to meet with her lover (Fred Melamed) to discuss living arrangements; a student (David Kang) with a failing grade appears to bribe the professor for a better grade; and Gopnik's tenure committee is evaluating several anonymous letters castigating his character.
His children, meanwhile, are alienated from their father, whose troubled brother Arthur (Richard Kind) may be on the verge of a breakthrough with—or a mental breakdown over—an obsessive project on which he's been working.
Faced with these mounting crises, Gopnik heeds the advice of a friend who tells him, "It's not always easy to figure out what God is trying to tell you," and seeks counsel from three rabbis. These sessions are played for laughs, mostly, but the rabbis do speak truth to Gopnik. (It's not clear if the Coens recognize this, or find the rabbis' words worthy of snickers only.) A young assistant encourages the professor to see the world through new eyes and to recognize the divine in ordinary, mundane things like a parking lot. A second rabbi lets Gopnik know that answers to his questions aren't easy to pin down, and shouldn't be expected. "God doesn't owe us anything," he says, to which Gopnik responds, "Why does he make us feel the questions?"
Like Job, Gopnik is not satisfied with the answers he receives, but just when his problems appear to be at a point of resolution, the film's sudden, surprising conclusion brings us back to the climax of Job's persistent demand for an audience with God: "Then the Lord answered Job out of the storm. He said: 'Who is this that darkens my counsel with words without knowledge? Brace yourself like a man; I will question you, and you shall answer me.'" (Job 38:1-3)
Have something to say about this article? Leave your comment via Facebook below!
advertise with us
Example: "Gen 1:1" "John 3" "Moses" "trust"
Advanced Search
Listen to Your Favorite Pastors