Alone Yet Not Alone Only Works for Those Tired of Everything Else
Jeffrey Huston, Crosswalk.com Contributing Writer
Friday, June 13, 2014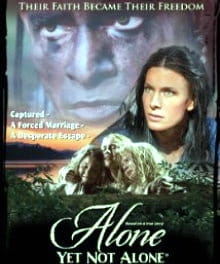 Release Date: June 13, 2014
Rating: PG-13 (forviolence)
Genre: Historical Drama
Run Time: 103 min
Directors: Ray Bengston, George D. Escobar
Cast: Kelly Greyson, Natalie Racoosin, Clay Walker, Jenn Gotzon, Joanie Stewart, Ozzie Torres, Tony Wade, Robert Pierce
Alone Yet Not Alone, a little-seen and briefly-released Christian movie from 2013, made a rather infamous blip on the pop culture radar by no fault of its own when, at the beginning of 2014, it became one of the few examples in Academy Awards history to actually have its Oscar-nomination (for Best Original Song) rescinded prior to the awards ceremony.
One of the songwriters, Bruce Broughton (a former executive of the Academy's music branch, i.e. a man with influence over members), was deemed to have improperly solicited members' support via e-mail. Despite the apparent validity to that ruling (it's hard to imagine enough branch voters actually saw the movie to which they granted a nomination), it remained controversial in light of the fact that fuzzy ethical lines are seemingly broached every year during Oscar campaign season, but free of penalty or even accusation. So to some, it was as if this film was targeted and ultimately penalized for no other reason than its worldview was blatantly Christian.

The above is important to note here, since if it were not for that publicized hullabaloo it's unlikely that very many people – even Christians – would've ever heard of Alone Yet Not Alone, let alone that it would end up being released in theaters this summer. This is a movie that, by contemporary standards, is rather square to be quite honest, playing like a kindred companion piece to Little House On The Prairie (though not engendering the same level of affection as that classic series). Indeed, its only controversial attribute is its villainous and politically incorrect portrayal of 18th-century Native Americans (a point that will be addressed shortly), but first a synopsis.

Based on a true story, Alone Yet Not Alone examines a little-known issue of conflict between Native Americans and European settlers: the kidnapping of European children by native tribes, and raising those kids as their own (this was perhaps most famously depicted in the John Wayne classic The Searchers). This story follows two real-life sisters – Barbara and Regina Leininger – who were among those kidnapped.
Daughters of devout Lutheran German settlers, the sisters were taken following a raid on their cabin and the murder of their father and older brother. The whole matter of these kidnappings was more complicated than it sounds, and the movie's setup (to its credit) helps provide the context from which this tragic epidemic grew. In short, as Colonists continued to invade and annex tribal territories, Native Americans understandably began to retaliate. Any and all European setters – not just British settlers – became targets, as the White Man and its society was an all-encompassing territorial threat. Consequently, tribal warrior attacks would include homesteads (of which the Leiningers' was one). Adults would be killed, and children taken. Alone Yet Not Alone is primarily a story of survival, but of also staying steadfast to the Christian faith and relying on it for strength.
The filmmakers go to intentional lengths to create sympathy for the plight of the Native Americans, showing their peaceful gestures to English troops as being arrogantly turned away, with a clear threat that the British Empire would take and subdue whatever it chose. So by the time the Leiningers are attacked, we know that it's not indiscriminant savagery.
Have something to say about this article? Leave your comment via Facebook below!
advertise with us
Example: "Gen 1:1" "John 3" "Moses" "trust"
Advanced Search
Listen to Your Favorite Pastors