Bad Acting, Theology Propel a Doomed Ghost Rider
Annabelle Robertson, Entertainment Critic
Friday, June 15, 2007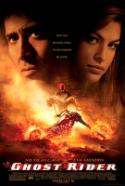 DVD Release Date: June 12, 2007
Theatrical Release Date: February 16, 2007 (wide)
Rating: PG-13 (for horror violence and disturbing images)
Genre: Science Fiction/Drama
Run Time: 123 min.
Director: Mark Steven Johnson
Actors: Nicolas Cage, Eva Mendes, Peter Fonda, Wes Bentley, Sam Elliott, Donal Logue, Matt Long, Raquel Alessi
When 17-year-old Johnny Blaze (Matt Long) hears that his girlfriend, Roxanne (Raquel Alessi), is moving, he decides to run away with her. But later that night, Johnny learns that his father is dying of lung cancer. He heads off to tinker with his bike, and a strange figure (Peter Fonda, perfectly understated as the devil) appears and offers to heal his father, in exchange for Johnny's soul.
The young man is tempted. Before making a decision, however, he takes a look at the contract. Before he can read it, he accidentally pricks his hand, causing a drop of blood to land on the paper. "That'll do," says Satan, snatching it up. The next day, Johnny awakes from this strange "dream." To his delight, his father is healed. But, like so many other promises Satan makes, things don't go exactly as planned.
Years later, Johnny (Nicolas Cage, trying desperately not to overact) is a world-renowned motorcycle stuntman. No matter how far he jumps or how hard he falls, he is never injured, however. "You must have an angel on your shoulder," says his best friend and manager (Donal Logue). "Or something," Johnny replies. Things are going great—until the day that Roxie (Eva Mendes, having forgotten how to act) shows up, begging for an interview. Johnny agrees, but is too flabbergasted to say much. Johnny persuades Roxie to go out for dinner.
While getting dressed, he hears his father's bike revving outside. It's the devil, and he has come to collect. Within minutes, Johnny is smoking—literally. His skin begins to melt and he screams then bursts into flames. Suddenly, he's roaring off, collecting evil souls (and standing up Roxie). The only way Johnny can escape the deal? Defeat the devil's nemesis, Blackheart (Wes Bentley), who also happens to be Satan's son. Otherwise, Johnny will be "the Ghost Rider," every single night, for the rest of his life.
Based on the Marvel Comic, Ghost Rider is director Mark Steven Johnson's third directorial effort, after 2003's Daredevil and 1998's Simon Birch. Johnson is an experienced writer, having penned these scripts as well as Elektra and Grumpy Old Men, among others. Like many of his other films, he tends to write for teenage boys, and this is no exception. It's full of violence and bad language, however, and while most of the action is cartoon-like in nature, it's still gruesome. Numerous characters are murdered, and a few die hideous deaths.
Johnny's father serves as a solid role model (save for his smoking addiction), and gives his son good advice. "Every choice you make has a consequence," he says. "You do things without thinking, and you're not making a choice. The choice is making you." Unfortunately, the devil's character is also fairly winsome. "Far out," he says. "I enjoyed watching you ride." When Johnny asks if he has a show, the devil grins and says, "'Greatest show on Earth."
Have something to say about this article? Leave your comment via Facebook below!
advertise with us
Example: "Gen 1:1" "John 3" "Moses" "trust"
Advanced Search
Listen to Your Favorite Pastors