Carefree Baggage Claim Showcases Patton's Range
Jeffrey Huston, Crosswalk.com Contributing Writer
Friday, September 27, 2013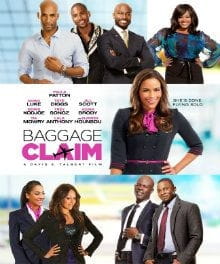 DVD Release Date: February 4, 2014
Theatrical Release Date: September 27, 2013
Rating: PG-13 (for sexual content and some language)
Genre: Romantic Comedy
Run Time: 96 min
Directors: David E. Talbert
Cast: Paula Patton, Jill Scott, Derek Luke, Adam Brody, Taye Diggs, Jenifer Lewis, Djimon Hounsou, Christina Milian, Boris Kodjoe
Beyond the titular pun of its air travel backdrop, Baggage Claim also carries the baggage of all-too-familiar Rom-Com tropes, not the least of which is absolutely gorgeous people lamenting how unlucky in love they are. Yet while its formula and tone are excessively simplistic, this movie carries its baggage rather lightly.
Like too many chick flicks before it, Baggage Claim plays to single women's anxieties and fantasies in equal (and unhealthy) measure. Despite stressing that a woman's worth should not be based on her relationship status, both the movie's tensions and ideals all revolve around getting a man. The mature temperament that rises above societal pressures all-too-quickly gives way to the extremes of self-abasing desperation and Prince Charming dreams. Pandering to those worries and hopes, however, is likely what will make this an entertaining catharsis for its target audience (and being set during the holidays is a nice bonus).
Montana Moore (Paula Patton, 2 Guns) is a flight attendant who's broaching her thirties, still single, with no eligible prospects. Compounding Montana's natural angst is unrelenting pressure from her mother to find a man, who then doubles down once Montana's college-age sister announces her engagement. With just a month to her sister's reception, Montana has 30 days to find a legitimate beau so that she's not the only adult attending the ceremonies alone.
It'd be reasonable to say that the basic stakes here couldn't be more contrived, but then you'd be selling this date movie machine short. The solution to Montana's crisis? With the help of her two stewarding besties (a sassy over-sexed gal and empathizing gay guy, naturally) and other air traffic employees, Montana searches flight databases to find where her previous boyfriends are flying to over the next few weeks, boards those flights, and attempts to rekindle past romance through orchestrating "accidental" meetings. Desperate times – like desperate movies – call for desperate measures, and canned comedy ensues.
For anyone hoping to glean deeper insights about these increasingly common travails of singlehood, well, you'll have to look elsewhere. Baggage Claim downshifts hard and fast into its plot machinations, with only the faintest of Hallmark platitudes left in its wake. About the only wrestling Montana does is to wonder if she should just "settle," but of course such practical contemplations have very short shelf-lives in fluffy romancers.
So rather than a thoughtful examination of self-identity under the weight of cultural expectations and norms, what we're left with is a series of slapstick situations as Montana flounders from one hookup (and city) to the next. Each begins with the hope of blissful destiny (from a successful hip-hop artist, to an emerging politico, and other insanely eligible bachelors of the handsome and wealthy variety) only to devolve into various forms of disaster, all predicated on each guy being a Playuh underneath his attractive and seductive veneer.
It all plays out like a Nickelodeon tween show for adults (both in subject matter and sexual situations), complete with over-the-top slapstick hijinks sans laugh track. Actors play and mug for each joke, exaggerate each persona, and play up each cliché. But to its credit, Baggage Claim doesn't make any pretense to be more than it is as director David E. Talbert (First Sunday) embraces the absurdity with a cute, winking gusto. And after the first three scenarios play out at length, the film wisely barrels through most others in a montage of one-shot disasters. It's nothing more than a glorified sitcom but, utterly predictable though it may be, it's fun and feel-good.
Have something to say about this article? Leave your comment via Facebook below!
advertise with us
Example: "Gen 1:1" "John 3" "Moses" "trust"
Advanced Search
Listen to Your Favorite Pastors