Benjamin Button Is Curiously Short on Life Lessons
Christian Hamaker, Crosswalk.com Contributing Writer
Wednesday, December 24, 2008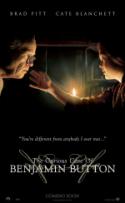 DVD Release Date: May 8, 2009
Theatrical Release Date: December 25, 2008
Rating: PG-13 (for brief war violence, sexual content, language and smoking)
Genre: Drama, Adaptation
Run Time: 165 min.
Director: David Fincher
Actors: Brad Pitt, Cate Blanchett, Julia Ormond, Taraji P. Henson, Tilda Swinton, Elias Koteas, Jason Flemyng, Jared Harris, Mahershalalhashbaz Ali

The Curious Case of Benjamin Button, a film about a baby born with the infirmities of a man in his 80s who grows younger and more physically robust as he ages, purports to give audiences a unique prism through which to evaluate the meaning and purpose of life.

Always lovely to look at, this prestige picture from director David Fincher, written by Eric Roth, provides so many captivating images that it takes a while for viewers to discover how little the film has to say. Running nearly three hours, The Curious Case of Benjamin Button turns out to be curiously lacking in insights. Its numerous lines of dialogue about life purpose add up to very little.

The story opens against the backdrop of Hurricane Katrina, as an aging woman (Cate Blanchett) asks her daughter (Julia Ormond) to read the reminiscence of Benjamin Button—her suitor over several decades. Brad Pitt stars as Benjamin, whose diary forms the framework for the telling of this long-winded tale.
Abandoned by his father but taken in by a young woman, Queenie (Taraji P. Henson), who declares him to be a "miracle," Benjamin is raised in a nursing home. His boisterous, childlike spirit belies his aged appearance and irritates some of the other residents, but Queenie protects and nurtures him. She takes him to church every Saturday night, and it's there, during a healing service, that Benjamin is first able to rise from his wheelchair and walk. Although the pastor is made to look somewhat buffoonish during that sequence, Queenie will later cite the healing as pivotal in Benjamin's ability to overcome his physical frailties.
These early scenes are among the film's most affecting, as Benjamin enjoys a serene existence under the protection of Queenie. He also meets Daisy (played by Elle Fanning as a child, and Blanchett as an adult), who will become the love of his life. They share a childlike worldview, but Benjamin's outward appearance raises eyebrows among onlookers. Daisy becomes a dancer and tours the world, and her departure marks the end of innocence for Benjamin's life, and for the movie's until-then gentle story.
Benjamin finds work on a tugboat, where the captain (Jared Harris) makes it his mission to help Benjamin lose his virginity. Shortly thereafter, Benjamin enters into a lengthy affair with a married woman (Tilda Swinton). Soon Benjamin is thrown into World War II, where he experiences violent death that contrasts with the peaceful passing of life among the residents in the facility where he was raised.
What's most remarkable about the film isn't what Benjamin remembers about these events, but the absence of any regret in the man's life. Indeed, if viewers are to glean a new perspective on their own lives by watching Benjamin's story, then learning from one's mistakes, and a recognition of our weaknesses and failings, should be part of the film's power. But the most "curious" aspect of The Curious Case of Benjamin Button is that missing piece of Benjamin's story. Perhaps screenwriter Eric Roth, best known for adapting the novel of Forrest Gump and for co-writing the screenplay for Munich—both more provocative than this film—thinks it profound that characters faced with death say such things as, "When it comes to the end, you have to let go," or "You never know what's coming for you," but Christian viewers will be looking for something more substantive.
Have something to say about this article? Leave your comment via Facebook below!
advertise with us
Example: "Gen 1:1" "John 3" "Moses" "trust"
Advanced Search
Listen to Your Favorite Pastors