Benjamin Button Is Curiously Short on Life Lessons
Christian Hamaker, Crosswalk.com Contributing Writer
Wednesday, December 24, 2008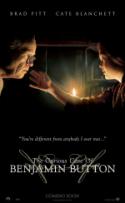 As for those stars, Pitt as Benjamin represents a step back from his leading roles in Babel and The Assassination of Jesse James by the Coward Robert Ford. The events of Button happen primarily around the character, not within him, making him rather uninteresting as a character; he is, like Forrest Gump, a passive figure, but unlike Gump, his effect on others cannot be clearly described as positive. Blanchett, one of our finest actresses, gives a performance that grows more graceful as her character ages, but ironically, Daisy is a more commanding screen presence as played as a child by Elle Fanning. Together, Pitt and Blanchett create less spark here than they did as a troubled married couple in the far superior Babel, where the pairing was one of just three storylines. Their performances in that film also revealed much more about the human condition and contemporary life in far less screen time.
The Curious Case of Benjamin Button is not without its moments. An opening sequence about a clockmaker is outstanding, and the story behind an injury Daisy suffers is a mini movie within the larger tale, edited and paced with more verve than the rest of the film that surrounds it. A dance sequence performed by Daisy for Benjamin is memorably framed and lushly romantic—a highlight among the film's impeccable visual presentation (it was shot by Claudio Miranda, who assisted director Fincher on several other visual masterpieces: Seven, The Game and Fight Club).
Director Fincher is coming off of a film that is now widely recognized by critics as one of last year's best movies, Zodiac, a serial-killer drama on the surface that contained multiple layers beneath the story. His choice of Benjamin Button as his subsequent project feels like a play for mass appeal that didn't pan out, despite the obvious talent assembled for the project. The movie is not a black mark on Fincher's resume—or on the resume of anyone else involved in the project—but it's the kind of lesser project that often earns industry plaudits for filmmakers who should have been honored for earlier, more satisfying work. Remember that when The Curious Case of Benjamin Button is nominated for multiple Oscars.

Questions? Concerns? Contact the writer at crosswalkchristian@verizon.net.
CAUTIONS:
Language/Profanity: Lord's name taken in vain; foul language.
Drugs/Alcohol: Drinking/drunkenness.
Sex/Nudity: A man and woman kiss on a bed; a man's bare back is shown, as is a man in a bathtub; a couple has sex under the sheets; Benjamin is taken to a brothel, where he loses his virginity; adulterous affairs; dancers backstage are in various states of dress; Benjamin recalls relationships with multiple women; a man and woman make love on the beach; Daisy jumps out of a mattress and grabs a sheet to cover herself; out-of-wedlock pregnancy.
Violence/Disturbing Imagery: War violence, a man recalls being struck by lighting several times, but these images are meant to be somewhat humorous; vomiting; brawling; dead bodies float in the water; a woman is shown bleeding as she goes into labor.
Religion: References to God include a mention of prayer for a soldier's safety; a child is said to be a miracle; Benjamin attends church with his mother; a faith healing service; grace is said before a meal; a question about answered prayers; encouragement to say one's prayers nightly; a man is said to look like he's been born again; a brief discussion of Edgar Cayce; repeated remarks that we never know what's coming for us, and that when the end comes, we just have to let go; a dying man is said to have a nice spot in heaven waiting for him; life is said to consist of a series of incidents beyond anyone's control.
Have something to say about this article? Leave your comment via Facebook below!
advertise with us
Example: "Gen 1:1" "John 3" "Moses" "trust"
Advanced Search
Listen to Your Favorite Pastors